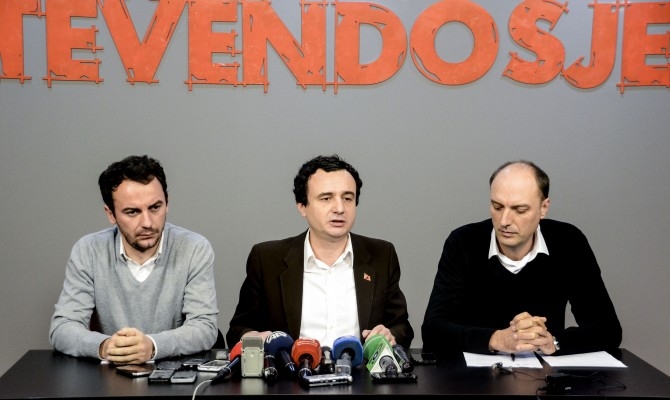 Pristina, November 20, 2014/Independent Balkan News Agency
By Elton Tota
Self Determination Movement has pledged to strongly fight the government of Isa Mustafa. Albin Kurti has said that the agreement between LDK and PDK was made through the deal with the 70 files that the Commune of Pristina has sent against Mustafa and which according to Self Determination leader, were "frozen" by the US ambassador, Tracey Ann Jacobson.
According to Kurti, the coalition between PDK and LDK marks the continuation of the agony for Kosovo and that such government makes it impossible to fight crime and corruption.
"PDK in government will make the agony for the people of Kosovo continue. There won't be any chance to fight crime and corruption, let alone tackle other issues such as unemployment or reforms in education", declared leader of Self Determination.
In a news conference delivered today, Kurti said that last evening's agreement signed at the president's office, was nothing else than an agreement for the files that existed against Mustafa.
Kurti said that ambassador Jacobson has promised to Mustafa that she would "froze" the 70 files that proved violations during his leadership as mayor of Pristina.
"Last night events bring serious damages for Kosovo. It was not an agreement about a government, but about personal power, because the post of the prime minister was the only thing to be discussed. For us it's clear that bargaining with the files was made last night in the president's office. Isa Mustafa pardons PDK and the so called Kosovo Informative Service on crimes and corruption, while the US ambassador Jacobson "freezes" the 70 files that prove the violations committed in the Commune", said Kurti.
Kurti also said that he doesn't feel sorry about the fact that the country remained without institutions for five months, because as he said, it was proven that the change can be made.
"For five months in a row we have made PDK's life harder. We showed that change is possible and we have shown that PDK is the minority that has taken the state under control. We don't feel sorry for this. We're convinced that it's better that we remained like this for five months, because this could have happened in June", said Kurti
Self Determination pledges that the opposition will fight Mustafa's government more than Thaci 2 government. /ibna/