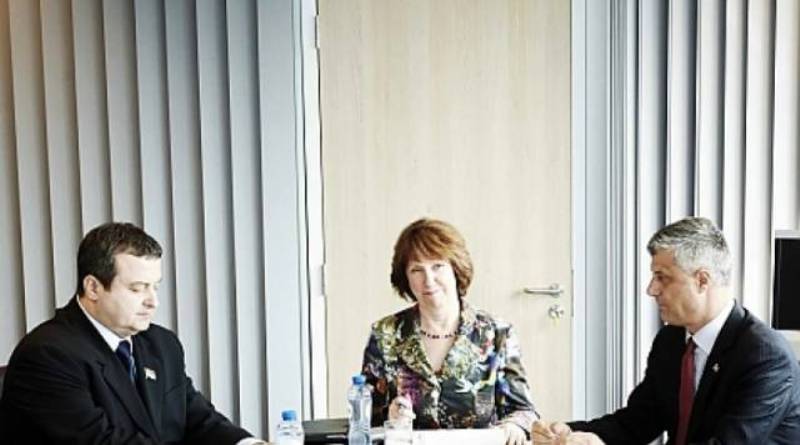 Pristina, April 19, 2013
By Tinka Kurti
The content of the 15 article agreement proposed by Brussels for the Prime Minister of Kosovo and that of Serbia has been made public today.
The most problematic and debatable articles so far were article no. 14, which relates to the accession of both countries in international mechanisms, which Serbia had refused, and article no.9, for which the Kosovo representatives have hesitated. Article no. 9 relates to the election of a Serbian police commander.
Meanwhile, as far as the powers of association of communes with a Serb majority population are concerned, article no.6 states that the commune will exert the powers conferred by the central government. The content of the proposed agreement:
1: "Communion/Association" of Communes of Serbian majority in Kosovo, open even for other communes.
2: ""Communion/Association" will be established by statute.
3: The structures will be established according to the same basis of the existing regions in Kosovo.
4: The powers will be conferred based on the European Charter of Local Self Governing and according to the laws of Kosovo.
5: "Communion/Association" will exert extra powers conferred upon it by the central authority.
6: "Communion/Association" will have a representative role in the central authority and will have a seat in the Consultative Council of Communities.
7: Kosovo will have only one police force which will be called "Kosovo Police".
8: The entire police force in the north of Kosovo will be integrated in the framework of the Kosovo Police and the salaries of police officers will be paid only by Kosovo Police. The members of other Serbian security structures will be offered respective positions in the structures of Kosovo.
9:  There will be a post for a regional commander for the Serbian majority communes in the north of Kosovo and he will be a Serb of Kosovo, elected by the Ministry of Interior of Kosovo out of a list which will be submitted by the four chairmen of the communes on behalf of "Communion/Association". Police structure in the north of Kosovo will reflect the ethnic structure.
10: Judicial authorities will be integrated and work in the framework of the legal system in Kosovo. The Appeal Court in Pristina will establish a panel consisting of Serbians of Kosovo judges, who will deal with all the communes that have a Serbian majority population. A unit of this Appeal Court will have an office in the northern part of Mitrovica.
11: The 2013 local government elections will be held with the assistance of the OSCE and in accordance with the laws of Kosovo.
12: An action plan will be drafted until April 26, with the accurate time frames. Caution should be shown for the transparency of funds in the implementation of this agreement.
13: According to article 13, parties must reach an agreement for the energy and the telecom sectors before mid June this year.
14: This article relates to the accession of the two countries in international organizations.
15: The last article of the proposed agreement states that both parties will establish an implementing committee with the assistance of the European Union. /ibna/