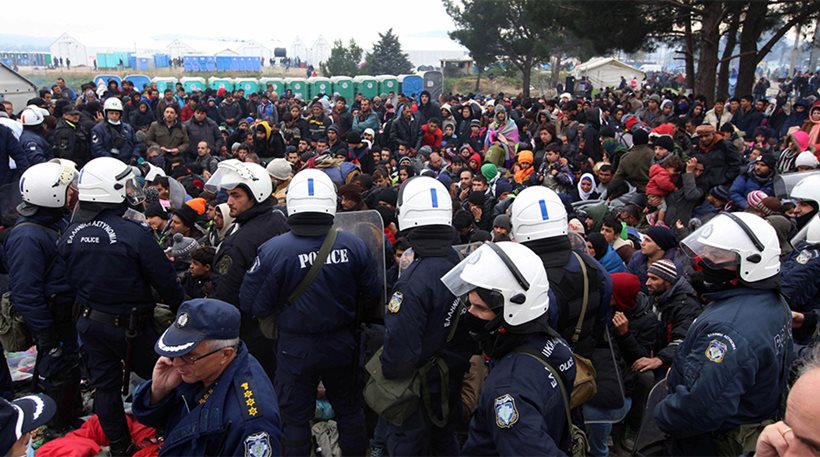 Athens, February 26, 2016/Independent Balkan News Agency
By Spiros Sideris
Refugees are attempting to reach Idomeni by any means possible. A group of 200 refugees who were trapped in Tempe, started walking yesterday morning, while another group that broke through the fence at the relocation center in Diavata Thessaloniki, returned back to the center. At the same time, about 2,000 refugees arrived from the islands to Piraeus, while only 100 refugees managed to cross the border with FYROM, as the authorities in Skopje do not allow mass transits.
In parallel, in Kozani a group of a hundred refugees left the indoor Gym of Lefkovrysis and started walking to head for Idomeni. The majority are young couples with babies in arms, from several months to seven years of age, walking the side streets of Kozani to reach the exit of the city. Constantly on their side remain the men of the DIAS police squad trying to explain that it is better for the safety of their children and their own to stay in the hosting space. They are however determined to arrive at the border even though they know that there are thousands of their compatriots in Idomeni, wanting to join them.
Earlier in the afternoon, in protest a smaller group blocked the main entrance of the gym in Lefkovrysi Kozani, hampering vehicles carrying humanitarian aid. The refugees asked to be allowed to leave with the buses for Idomeni.
Moreover, construction projects for refugee accommodation centers and immigrants are underway in Kilkis and Giannitsa. In particular, to the old camps located in the old airstrip in New Kavala, the old airstrip in the village Cherso, to the "Papadakis" military camp in Drosato, to the "Kokinori" camp in the village Kentrico, and to the "Filipakou" camp in Janitsa.
The Greek office of the UN High Commissioner for Refugees asked the Chamber of Hotels to inform about the immediate availability of hotels in Athens and Thessaloniki for an initial period of nine months. In particular, the demand is for hotels with a capacity of over 100 beds, full feeding and class up to 2 stars, up to a geographical radius of 50 km from both cities. The CoH has sent its representatives to the Hotel Association of Athens and Thessaloniki for briefing.
At the same time, about 250 people, men, women and children, mostly Afghans remain in Victoria Square and are looking for a way to leave for the border. Indeed, the anguish and despair led two refugees, one man and one woman to attempt suicide. However, their attendants prevented them from hung from a tree. For precautionary reasons they were transported by ambulance to the "Hippocrateio" and "Geniko Kratiko" hospitals, without bearing any trauma.