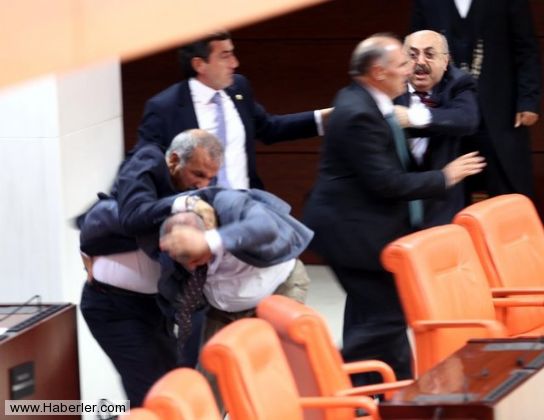 The Parliament was turned into a "ring"
By Manolis Kostidis – Ankara
The German magazine "Der Spiegel" exercises harsh criticism in Recep Tayyip Erdogan, calling him the "New Sultan" on the occasion of the presidential elections that are to be held in Turkey on August 10, for which the Turkish Prime Minister is considered the favorite.
"From modernizer of Turkey, when he was elected in 2002, he has now turned into a patriarch", writes the magazine, the cover of which is both in German and in Turkish, and is entitled "Erdogan's State".
"He wants to be president but more than that he wants to become ruler for life, at least until 2023, when Turkey will celebrate the 100th anniversary of the founding of the Turkish state", it states.
The magazine's political analysts report that "during the course of his premiership Turkey has radically transformed from a country in crisis to a regional power. But Erdogan himself has also changed. From a hardline Islamist he has become a democrat modernizer who weakened the elite, launched an economic development boom and liberated the Islamist conservative majority from poverty and political speechlessness".
The magazine accuses the Turkish politician that "after every electoral victory, he was becoming more authoritarian. He ordered the bloody suppression of protests and the jailing of his critics, and gradually introduced the Islamic positions on ethics. From modernizer he became patriarch, from a politician who gave hope he has turned into a risk factor".
Erdogan seems to be indifferent to the charges against him and continues its attacks against Israel during rallies made ​​in Turkish cities. The Turkish Prime Minister claimed that "Israel deliberately kills Palestinian mothers".
"Like Hitler, who sought to create a race without defects, Israel is pursuing the same goal. They kill women so as to not give birth to Palestinians. They kill babies so as to not grow up. They kill men so as to not defend their country. They will drown in the blood they are spilling", Erdogan said.
Tension prevails in Turkish politics in sight of the elections, with MPs beating their colleagues in the conference room of the Parliament that was turned into a "ring".
Members of the ruling Justice and Development Party (AKP) attacked their colleagues of the Nationalist Party (MIP) with punches and kicks, over some objections on the voting of a bill. Three MPs were injured and the meeting was interrupted immediately. An MP of MHP harshly stated: "the AKP dogs attacked us, but they got the response they deserved"!