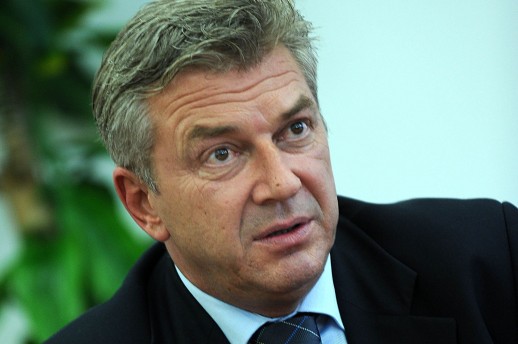 By Marija Avramovic – Zagreb
For the fourth day the Croatian Deputy Prime Minister and Minister of Interior Ranko Ostojic continues to battle with a serious illness in intensive care. The clinical course showed a slight improvement in inflammatory parameters, it was announced yesterday from the government.
The inflammatory process was identified on the Deputy Prime Minister's neck and urgent surgery and the drainage of the inflammatory process was done. Due to the development of a septic condition with signs of circulatory shock, measures of intensive care were administered, according to the government statement.
Since he's at the hardest stage of sepsis, doctors are fighting for his life. Croatian radio and television (HRT) reported that he had liver and kidney failure. The Minister is unconscious and on a respirator.
Although his lungs are healthy, Ostojic is on a respirator from the first day to help his body save power and use it to fight the disease, RTL reported unofficially today.
Those well acquainted with the situation say that small improvements on the patient can mean a lot, but not necessarily. Treatment usually involves surgical intervention and treatment with antibiotics. But since sepsis occurs more frequently, and mortality from it grows, doctors recently started applying so-called supportive therapy along with the regular one.
On Friday, the minister ended in Zagreb University Hospital for Infectious Disease with high fever, on Saturday he was urgently transferred to Rebro hospital and underwent surgery. In the afternoon, the government announced that the minister is stable after surgery and remains at the Department of Intensive Medicine of Internal Medicine University Hospital because of the need for further medical care.
This is not the first time that Ostojic is struggling with such a problem, but the situation is much worse than two years ago when the abscess also got him sepsis.
On the minister's Facebook page friends, colleagues, acquaintances and citizens are posting messages of support with the desire for quick recovery.