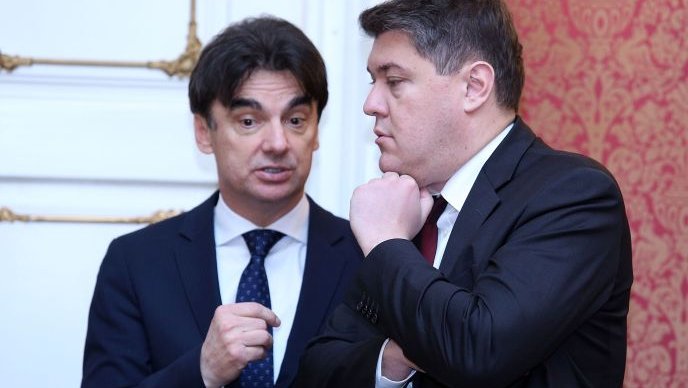 Zagreb, April 20, 2015/ Independent Balkan News Agency
By Marija Avramovic
After Central Bureau of Statistics' announcement Monday morning that the deficit in the budget last year exceeded 18.8 billion kuna (2,5 billion euro), or 5.7% of the GDP, Finance Minister Boris Lalovac and Deputy Prime Minister Branko Grcic held an urgent conference press.
"We believe that April 21 will be a key date, when our measures will begin to be evaluated. IN the following days we will finalise the national reform program and thus we will complete our entire process, at least as far as our side is concerned. We now propose additional measures that must be a minimum 0.4% of GDP", Grcic said.
We are not making these rationalisation measures solely because of European Commission. This is primarily for Croatia's economy, the private sector and competitiveness", he stressed.
"Fifty three strategic public companies have a total debt of 66 billion kuna. The clear intention of the Government is to carry out another additional pressure upon the management boards to move stronger in the restructuring process", Grcic said.
"We propose additional measures which amount to 0.4% of the GDP according to estimates by the Eurpean commissioner. There are also new limits within the budget, material costs, subsidies etc. in the amount of 463 million, additional savings from Croatian waters, Croatian Roads, Environmental Protection Fund and Croatian Health Insurance Fund – 100 million kuna from each of these. A total of 407 million kuna, with the expenditure of these two groups budgetary and extra-budgetary exceeding 880 million kuna of savings", Grcic disclosed.
"Also, at least 10 governmental agencies will be merged with other agencies and it will bring additional savings", he said, adding that the Government is moving in the rationalisation of material costs and restricting agency business trips.
Lalovac pointed out that the agencies would have to move to areas where a square meter is not more expensive than 11 euros including taxes.
"The costs over the use of official vehicles and travel expenses, purchase of official vehicles, computer services, post office, etc. will have to be reduced also", Finance Minister added.
According to Lalovac, if these criteria are applied, the savings would be about half a billion kuna on an annual basis and the aim is for this to start as soon as possible.