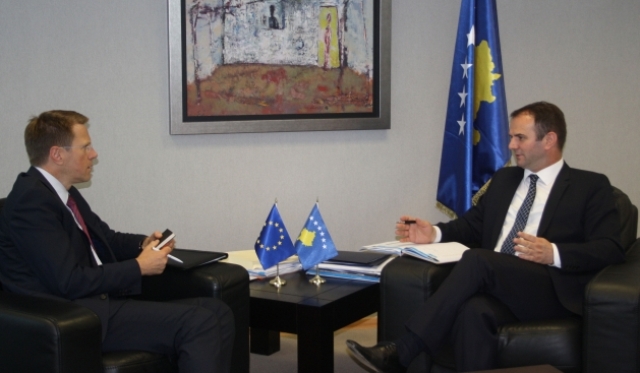 Pristina, May 10, 2013
Deputy Prime Minister of Kosovo, Hajredin Kuçi has briefed today the head of the EU Office in Pristina and Special Representative of the EU in Kosovo, Samuel Zgobar about the talks between Kosovo and Serbia.
"Kuçi has briefed Zgobar on the last round of talks held in Brussels between Kosovo and Serbia, clarifying the positioning of Kosovo in the dialogue about the implementation of the first agreement reached between Kosovo and Serbia over the normalization of relations between the two countries', states the press release of the Ministry of Justice.
The press release also states that deputy PM Kuçi has briefed Mr. Zgobar on the visit of the Serbian deputy Prime Minister, Alexander Vucic in the North of Kosovo, a visit which has been permitted by deputy Prime Minister Kuçi following the official request made by the authorities in Belgrade.
Hajredin Kuçi has led the delegation of Kosovo in Brussels, which has recently discussed over the plan for the implementation of the agreement. /ibna/