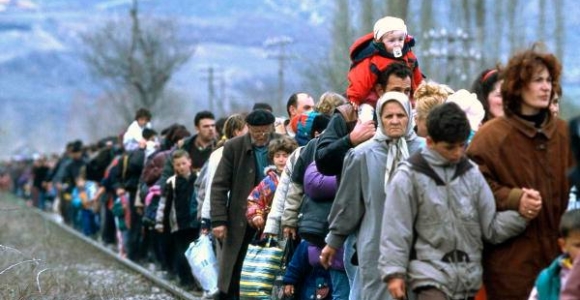 Turkish Deputy Prime Minister Veysi Kaynak has made a call for public tolerance following clashes between different ethnic groups in Ankara's Yenimahalle district.
"We have seen a social reaction against Syrians lately. Of course, there are some among the 3 million of them who may have committed crime. But the crime rate of Syrians is lower than that of our own citizens," Kaynak told daily Hürriyet on July 4.
"If there are safe zones in Syria, they will go back to their own lands," Kaynak said, adding that he recognized.
"The argument that 'our soldiers are going to Syria and getting killed while Syrians are here safely' is correct but insufficient. People between the ages of 20 and 45 can serve during a war but not all are warriors. In order for them to be warriors, they must be armed and educated accordingly. It is both not right and not possible for Turkey to do that alone," he said.
"Turkey is approaching the issue solely from a humanitarian perspective. There are 1,200,000 helpless Syrian women in Turkey. We cannot ignore them," Kaynak added.
Clashes in Ankara's Yenimahalle
Kaynak also referred to the clashes in Ankara's Yenimahalle district, referring to it as a "provocation."
"I can say there is a clear social incitement, a provocation. Those incitements are calling people to head to the streets. The incident at Yenimahalle in Ankara the other day was like that," he said.
"There were calls from many social media accounts. That indicates a provocation. Police cyber-crime units are working on it," Kaynak said.
Late on July 2, Turkish residents and Syrian refugee residents of the neighborhood engaged in clashes leaving one person injured. Workplaces belonging to Syrian refugees and Iraqi Turkmens were damaged, Hürriyet reported.
Ankara Governor Ercan Topaca said tensions had been raised after a number of social media posts.
"A small argument turned into a fight. A clash between Iraqi Turkmen people and our citizens left one person injured," Topaca said on July 3.
Call for tolerance
Kaynak called for Turkey's public to remain "tolerant" of Syrian refugees.
"We should not forget these people are in Turkey temporarily and Turkey is hosting them in accordance with our customs with great sacrifices. Our people should not develop negative reactions about this issue," he said.
"No one in Turkish territory has the freedom to commit a crime. If our citizens have suspicions of a crime being committed they should refer it to the related authorities," he added.
Syrians as a workforce
Kaynak also stated that over three million refugees should be considered as positive human capital.
"Among the three million, there are ones who are educated, who are experts. If the Syrian refugees were not in Kahramanmaraş, Adana, Osmaniye, Gaziantep, or even in OSTİM, Ankara's trade centre, there wouldn't be any unskilled labor and our factories would stop working," he added./IBNA
Source: Hurriyet Daily News