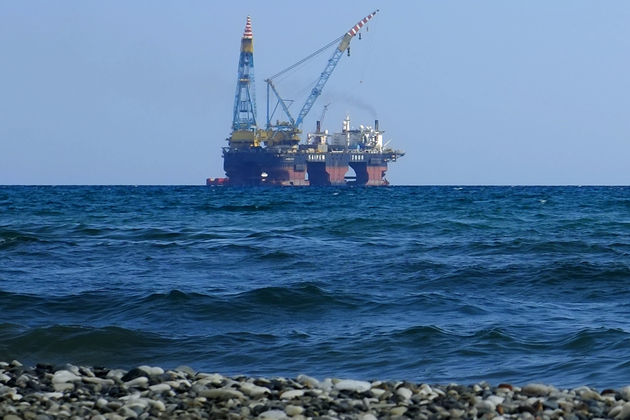 Ankara traži udio – Šta će se desiti sa Istočnim Meditetranom
Dva dana pre objavljivanja rezultata bušenja na parceli 10, predsednik Republike Kipar, Nicos Anastasiades, sastao se sa liderom kiparskih Turaka Mustafom Akincijem u pokušaju da nastavi razgovore o rešavanju kiparskog problema.
Veliki depozit prirodnog gasa nađen u "Glafkosu", međutim, kako se smatra, mogao bi promešati kockice ne samo u energetskoj mapi regiona, već i u pozicijama svih strana za budućnost Kipra.
Do petka uveče, Ankara nije objavila nikakvo saopštenje. Uostalom, parcela 10 nije u regiji koje se smatra turskim kontinentalnim pojasom. Ali u svakoj prilici Ankara je izjavljivala da bi prirodna bogatstva Kipra trebala biti podeljena između kiparskih Turaka i kiparskih Grka, a to bi se trebalo dogoditi nakon rešavanja kiparskog problema. Međutim, turski ministar vanjskih poslova Mevlut Čavušoglu iznio je i druge formulacije kao što je prikupljanje prihoda od ugljikovodoničkih goriva u međunarodni fond ili preko EU!
Što se tiče sastanka Akinci-Anastasiades, većina bi se složila da je održan u "pozitivnoj i dobroj atmosferi", ali, kako je rekao kiparski predsednik, "to ne znači da je došlo do promene mišljenja lidera kiparskih Turaka, koji se drži svojih pozicija".
Akinci predlaže transfer kiparskog gasa preko Turske
U intervjuu televizijskoj mreži BNT, Akinci je izrazio mišljenje da bi kiparski gas trebalo da bude transportovan u Evropu preko Turske! "U ovom regionu potrebna je ekonomska saradnja, kao i u drugim oblastima. Ako je nađena zadovoljavajuća količina gasa, najrazumnija je putanja da se preko Turske dođe do Evrope. Sami se slažu sa tim. Međunarodna zajednica bi trebala da odbaci ideje kiparske strane. To ne služi miru. Bogatstvo se mora zajednički koristiti. U slučaju saradnje, kiparski Grci će živeti prijateljski sa velikom državom koja ima 80 miliona stanovnika. U suprotnom će se stvoriti nove tenzije. Mora se učiniti sve potrebno kako bi se zaštitila prava".
Tri teorije Turske o njenim pravima na energetsko bogatstvo istočnog Mediterana
Turska smatra važnom mogućnost da region istočnog Mediterana postane glavni izvor resursa ugljovodonika i smatra da tu ima prava iz mnogih razloga. Prvobitno ina je tvrdila da je prihod ostvaren kroz prava kiparskih Turaka. Štaviše, smatra da je njen kontinentalni pojas u kontaktu sa nekoliko područja parcela 4,5,6,7, u kojima Republika Kipar planira bušenje u narednom periodu. Postoji velika mogućnost da će Turska poslati svoje bušilice u ove oblasti.
Pored toga, Tursko društvo za istraživanje nafte (TPAO) sklopilo je sporazume sa pseudo-državom i očekuje se da će se u bliskoj budućnosti sprovesti istraživanja u severnom delu ostrva. Istovremeno, Ankara je sprečila ENI da sprovede istraživanje na lokaciji "Soupia" na Plotu 8. Iako Turska nema direktna prava u regionu, poziva se na ugovor sa takozvanom "Turskom Republikom Sjeverni Kipar" koja ima odobrena prava na istraživanja na toj praceli.
Ankara računa na svoju snagu
Turska ne ignoriše činjenicu da ima malo ili nimalo diplomatskih odnosa sa Egiptom, Izraelom i Republikom Kiprom, koji su pronašli značajna polja prirodnog gasa. Međutim, ona tvrdi da će gas doći do Evrope na brz i ekonomičan način preko njenih teritorija. Kao takva, Turska na svaki način insistira da osigura deo energetskog bogatstva, jer Ankara smatra da je u pitanju energetska budućnost zemlje.
Mogućnost izgradnje terminala brine sve zemlje regiona i, kako je izjavio ministar energetike Republike Kipar, Giorgos Lakkotropis, odluka za izgradnju terminala za ukapljivanje pripada kompanijama, koje će "na kraju krajeva uložiti novac".
"Sve opcije se razmatraju istovremeno. Jedino što je sigurno je eksploatacija Afrodite (drugi depozit) prema Egiptu. Ako se Afrodita bude iskorištavala, to će biti prema Egiptu. Sa Izraelom, razgovori su u toku i nisu povezani sa pregovorima o trgovini. Istočni Mediteran treba da bude konkurentan," rekao je Lakkotripis.
Do sada se nije intenzivno razmatrao projekat izgradnje plinovoda za prirodni gas, jer se to smatra skupim projektom, čija izgradnja nije lak zadatak.
Snažno prisustvo turske mornarice, sa vežbom "Plava domovina", koja se istovremeno održava u Crnom moru, Mediteranu i Egejskom moru smatra se demonstracijom moći i porukom da se Turska ne sme ignorisati u energetskoj igri u regionu, ali i u energetskoj bezbednosti. Osim toga, Turska tvrdi da ima najveću flotu od tri zemlje koje su pronašle resurse u istočnom Mediteranu./IBNA