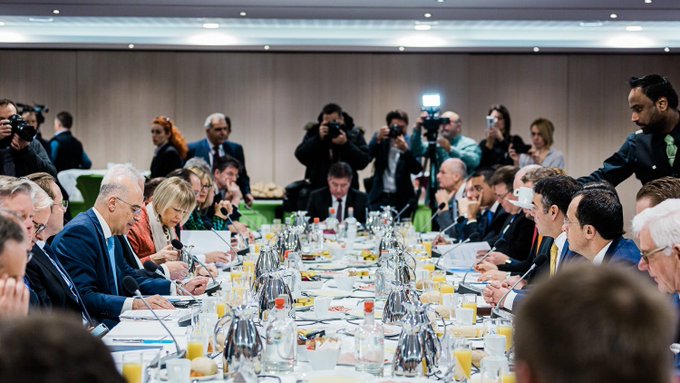 Greek Foreign Minister Nikos Dendias, hosted a working breakfast, which the Foreign Minister of North Macedonia, Nikola Dimitrov and the acting Foreign Minister of Albania, Gent Cakaj where invited to attend. The working breakfast was attended by 20 Foreign Ministers and almost all EU Member States with representatives. During the meeting, the European perspective of these two countries and the region of the Western Balkans in general was discussed, and there was an exchange of views on how to promote the European perspective of the two countries.
After the breakfast, Nikos Dendias made statements to the press, noting:
"We have had the pleasure today of organizing, with great success, I dare say, a working breakfast of the European Union Foreign Ministers, which our two colleagues from North Macedonia and Albania where invited to attend.
More than twenty European Foreign Ministers came together today; a useful first opportunity, after the October European Council, to exchange views on how we can move forward in the following period.
There was a call for improvement of the enlargement methodology and the need to maintain the European perspective of North Macedonia and Albania, as well as the rest of the countries in the region, always in the context of compliance with the European acquis.
I believe that, to some extent, we have achieved something today. A fruitful and meaningful discussion and a step forward. We will continue to work towards a positive development, possibly next March, in the desired direction.
Greece is the oldest European Union country in the region. It is a factor of stability and promotion of cooperation and will continue to take clear initiatives in this direction.
I will shortly be attending the Council of Ministers to discuss, inter alia, the issue of the non-existent Memorandum of Understanding between Turkey and Libya. I am sure that in this case too, the Council of Ministers will rise to the occasion"./ibna