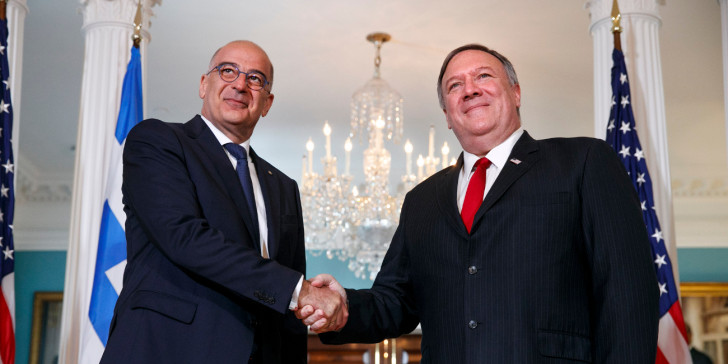 Greek Foreign Minister also met with Menendez
By Michalis Michael
A statement by the State Department spokesman, on the content of the meeting of Foreign Ministers Mike Pombeo and Nikos Dendias on Wednesday, confirmed the importance of Greek-American relations. "Secretary Pompeo highlighted the strong bilateral defense and security partnership, noting Greece's role as a pillar of stability in the Eastern Mediterranean and the Balkans. The Secretary commended Greece for its progress on energy projects to expand regional interconnectivity".
According to the State Department spokesman, the two ministers "reaffirmed their shared commitment to advancing religious freedom and agreed to continue progress made in key areas since the December 2018 Strategic Dialogue". Greek Foreign Minister Nikos Dendias also had a meeting with President Trump's National Security Advisor, John Bolton.
According to a Greek source from the United States, sited by CNA, talks did not revolve around the political dimension of the Cyprus problem. However, there was an extensive discussion on the Turkish aggression in the EEZ, the continental shelf and the territorial waters of Cyprus, as well as Turkish violations in the Aegean. According to the same source, Dendias noted in particular that Turkey cannot use the pseudo-state as an excuse, as "a non-existing state cannot have territorial waters".
Menendez speaks against Turkey
Nikos Dendias had a cordial meeting with the head of the minority in the Senate's Foreign Relations Committee, Robert Menendez, in which he expressed the thanks and courtesy of Prime Minister Kyriacos Mitsotakis and the Greek government for his legislative initiative. They two men also discussed "both the Greek-American relations and the issues that Turkish provocation poses, both to the Republic of Cyprus and to the eastern Mediterranean in general. I think it's always a pleasure for a Greek Foreign Minister to meet with Senator Menendez", Dendias added.
Asked to comment on the recent Erdogan statement, in which he calls him "an enemy of Turkey", Senator Menendez made it clear that what he is seeking is peace and prosperity for the Eastern Mediterranean and the region.
"But when Turkey violates the human rights of its own people, when Turkey poses problems to the Ecumenical Patriarch and when Turkey conducts illegal drilling in the Exclusive Economic Zone of Cyprus and when it continues to violate the Greek airspace and ultimately makes the most inconceivable thing with the purchase and delivary of the S-400, then things are more than simply pale. And it has not acted as a NATO ally, but contrary to NATO's interests. And so there are consequences for that. And if president Erdogan thinks the consequences for this are making me an enemy of the state, then let it be. I am more than happy to accept this title", he said./ibna