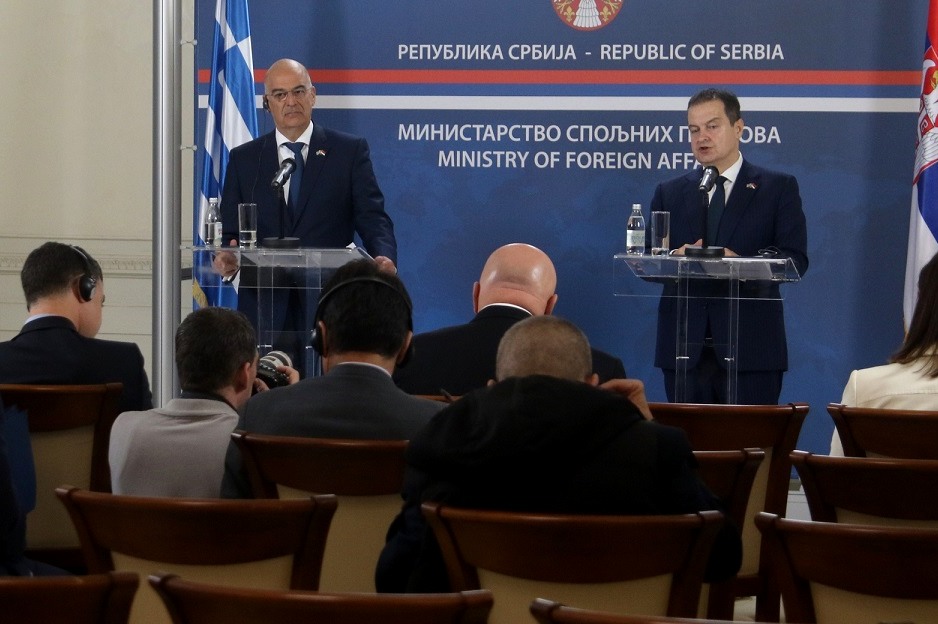 Serbian Deputy Prime Minister and Minister of Foreign Affairs Ivica Dacic and Greek Foreign Minister Nikos Dendias announced a new era in Athens-Belgrade relations at a joint press conference held shortly after the bilateral contacts of the two counterparts in Belgrade.
The great friendship and historic ties between the two countries will become an even stronger alliance, starting with Serbian President Aleksandar Vucic's visit to Greece on 10 December and the signing of the two countries' Partnership Declaration on the sidelines of the 3rd Cooperation Council Summit to be held in the Greek capital.
Ivica Dacic's assessment is that relations between the two countries are at an excellent level, adding that economic co-operation should be a priority in the coming period. Our priority is, Dacic noted, to increase foreign trade and to link the two countries to a variety of sectors, including tourism.
The Serbian Foreign Minister expressed his gratitude to Greece for its support in the Kosovo issue, saying that Greece could rely on Serbian support in the Cyprus issue.
For his part, Nikos Dendias announced the 3rd Supreme Cooperation Council to be held in Athens on 10 December, which will be an opportunity to enter into a new era of bilateral relations and cooperation that will develop not only at a political but also an economic level, including the "One Belt One Road", the energy of digital connectivity and commerce.
Greeks and Serbs have always been side by side in the good and the bad, and today Greece is the most ardent supporter of Serbia's European perspective, Nikos Dendias stressed. To add that: "For us, it is clear that Serbia belongs to the European family, just like the rest of the Western Balkans, and we are ready to help our neighbors achieve their European course. EU membership is a key element in achieving peace, stability and prosperity in our region. The European project cannot be completed without the Western Balkan countries, provided that, of course, they also fulfill the relevant preconditions on their part".
"Greece has been recognized as a pillar of stability in the region and, therefore, highly appreciates Serbia's efforts to promote stability in its own neighborhood. That is why our position on the status of Kosovo will remain unchanged until a final agreement is reached", the Greek minister stressed.
Later, Nikos Dendias had a meeting with Serbian President Aleksandar Vucic. The Serbian President noted that the fastest possible accession of all Southeast European countries to the EU is the only real guarantee for lasting and sustainable stabilization of the entire region.
Vucic also said that Serbia attaches great importance to relations with Greece, which are based on true friendship, historically confirmed proximity and solidarity of the two nations, and welcomed President Prokopis Pavlopoulos' invitation to visit Greece on 10 December./ibna