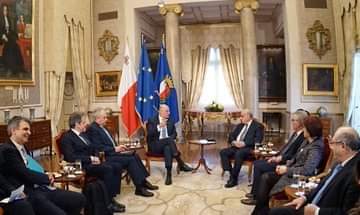 Greek Foreign Minister Nikos Dendias visited Malta on Wednesday, where he met with Foreign and European Affairs Minister Evarist Bartolo while he was also received by Malta's President and former Foreign Minister George Vella.
With his Maltese counterpart, the Greek Foreign Minister discussed the strengthening of bilateral relations, immigration and regional developments, according to a statement by the Foreign Ministry on twitter.
Extended talks and a working lunch followed.
During his meeting with Maltese President George Vella, Nikos Dendias explained the Greek Government's position that the Memoranda between Turkey and the government of Tripoli destabilize the region and in no way facilitate the process of finding common ground for resolving the Libyan crisis.
In his remarks following their meeting, Nikos Dendias said they went over "the overall situation in our region, particularly the situation in Libya and the developments that followed the void and non-existent memoranda signed by Mr. Sarraj. and the Turkish government".
"I must say that I greatly benefited from the wisdom of the President of Malta, who knows the region and Libya extremely well", Nikos Dendias continued, thanking George Vella for the welcome and information he provided on Libya.
Referring to the bilateral relations between Greece and Malta, the Greek Foreign Minister described them as excellent, noting that there is always room for improvement. /ibna