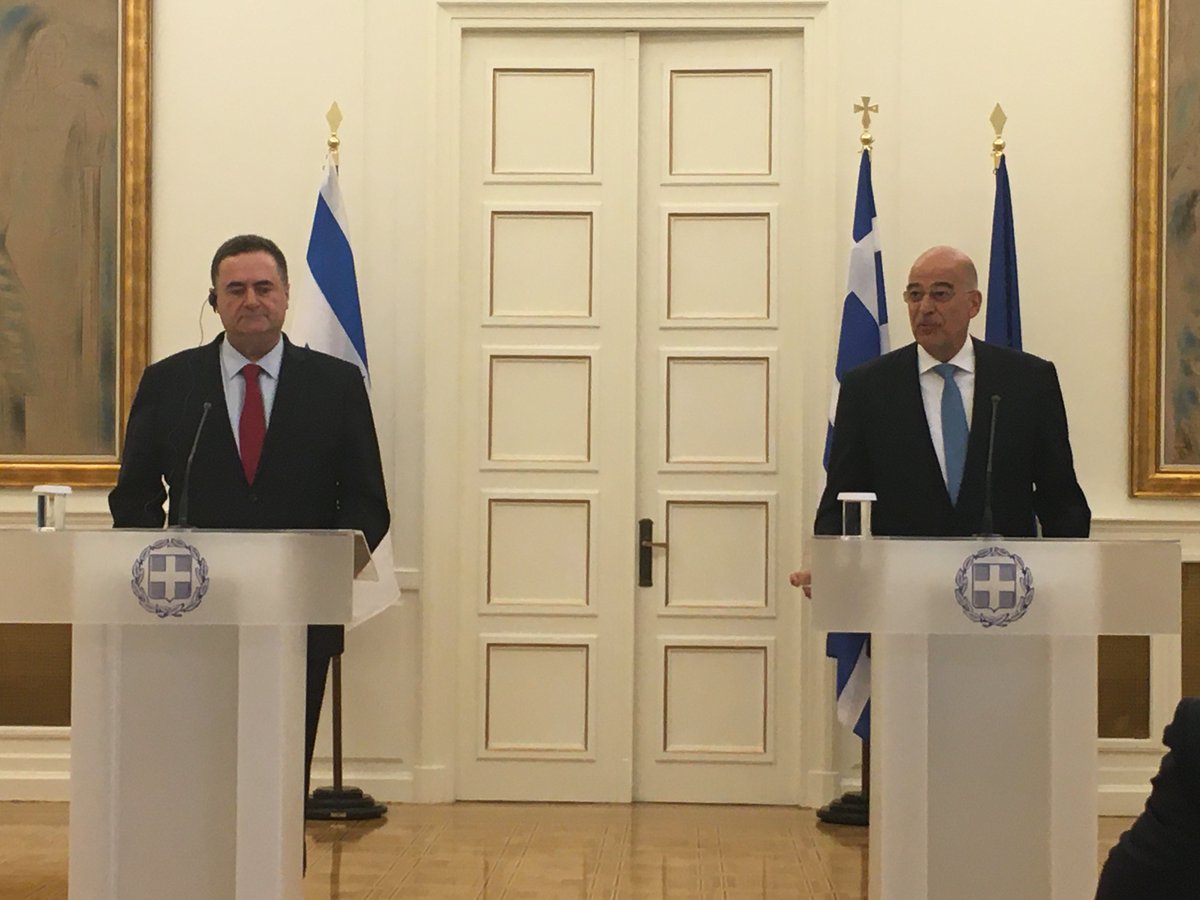 Israeli Foreign Minister Israel Katz was received by Greek Foreign Minister Nikos Dendias at the Greek Foreign Ministry, where they confirmed the very close and important relations between the two countries.
In the joint statements after the end of bilateral talks, the two men expressed the two countries' willingness to further upgrade and deepen their strategic cooperation.
Both Nikos Dendias and Israel Katz noted a similar approach on a number of issues in regional and bilateral issues.
The Greek Foreign Minister referred to Turkey's behavior, which undermines stability, development and peace in the region, emphasizing the need to respect international law as a basis for the peaceful coexistence of states and the prosperity of all peoples in the region.
Further highlighting the importance of their bilateral co-operation in the wider context, Mr. Dendias emphasized that "ΤΗΕ close and very friendly relations correspond to the content of our regional and bilateral discussions." Along the same lines, the Israeli Foreign Minister on his part stressed that his visit was a reflection of the friendship between the two countries and stressed that they agreed to deepen the strategic dialogue at all levels. "Turkey's behavior undermines stability, growth and peace in the region".
With regard to Syria, Nikos Dendias stressed that it is absolutely crucial to safeguard the country's territorial integrity and find a political solution in Syria, and that Greece supports the efforts of the UN special envoy.
The Israeli Foreign Minister, for his part, noted that "we discussed the issues of the region and the threats Iran and Turkey pose to security and stability" and added: "Iran with its nuclear program, ballistic missiles and support for terrorist organizations, such as Hezbollah in Lebanon and Hamas, and Turkey by attacking Kurds in Syria and the violations in sea and air and with its support to extremist organizations linked to Arab countries".
The two ministers referred to the development of bilateral relations, trilateral and wider cooperation, stressing the great importance they attach to these forms of cooperation.
They also made reference to the fruit of cooperation between the two countries, such as EastMed, EurAsia Interconnector and defense cooperation. In this context, they underlined the common interest in cooperation in the fields of investment, innovation, technology, tourism, trade and start-ups.
The invitation of the Israeli Foreign Minister to Greece to participate in the ambitious project of interconnecting Europe with the Arab world, is another sign of the intention to further strengthen the Greek-Israeli relations.
Israel Katz was received at the Presidential Palace and by the President of the Hellenic Republic, Prokopis Pavlopoulos, who reaffirmed the excellent level of Greek-Israeli relations, as well as of the trilateral Greek-Israeli-Cyprus cooperation. As the President noted, these relations operate not only bilaterally but also internationally, thus allowing Greece and Israel to emerge as security, stability and peace-building factors in our troubled region./ibna