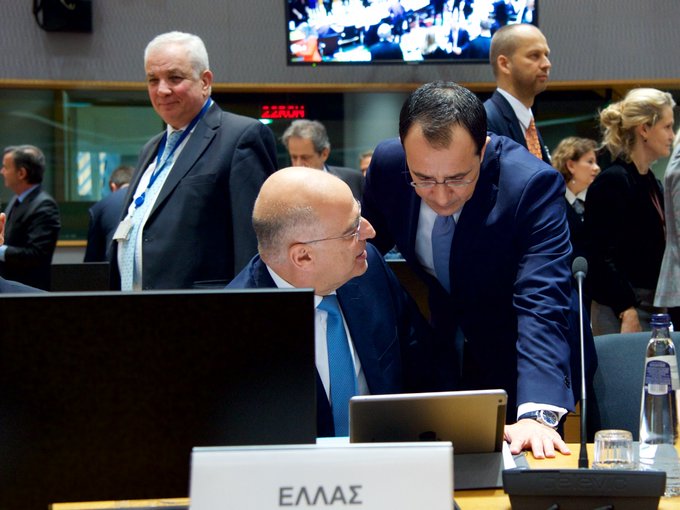 Greek Foreign Minister Nikos Dendias briefed his Foreign Minister counterparts at the Foreign Affairs Council in Brussels on Monday about the Turkish provocations and the memorandums of understanding signed with Libya, as he noted in his statements at the end of the Council.
"I raised today at the Foreign Affairs Council the issues arising from the signing of the two invalid memoranda between Turkey and the government of Tripoli", said Nikos Dendias, adding that the Skhirat agreement is thus being violated and that it is a direct violation of international law of the sea.
The Greek Foreign Minister stressed that in today's meeting he highlighted the model of Turkish transgression in both the Aegean and Cyprus and the Eastern Mediterranean, demanding the explicit condemnation of these memoranda. He also called for the creation of a framework for sanctions if Turkey and the Tripoli government did not comply with the law, and demanded the support of partners to Greece and Cyprus.
Nikos Dendias also explained in the clearest way that Greece will do whatever it takes to defend its sovereignty and its sovereign rights.
"I must say, with particular satisfaction, that we have received widespread support from France, from Italy, from Cyprus, from the Netherlands. In fact, with the Italian Foreign Minister, Mr. Di Maio, we have arranged for a forthcoming, immediate visit to Rome, to coordinate our actions", the Greek Foreign Minister said.
He added that "the final decisions will be taken by the European Council, with the participation of the Heads of State and Government, which will be attended by the Prime Minister of Greece, Kyriakos Mitsotakis"./ibna