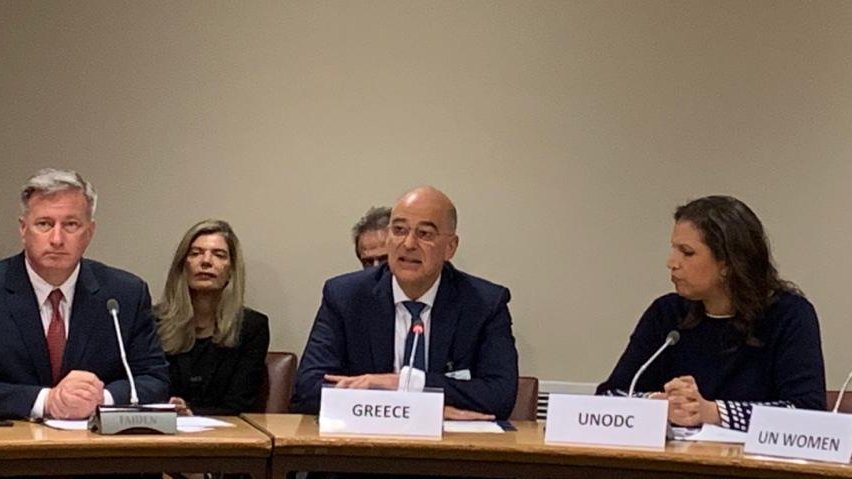 The revival of the traditional friendship and co-operation relations between Greece and the Arab world has been the focus of Foreign Minister Nikos Dendias' 4th day of high-level contacts in New York.
In a series of targeted meetings, the Foreign Minister reiterated the importance Greece attaches to developments in the Middle East and the Gulf region, as well as the important prospects for co-operation with the Arab world in the current context. In the following period, a relevant tour of the Greek FM is planned in the area.
In the morning, the foreign minister met with Qatar's Deputy Prime Minister and Foreign Minister Sheikh Mohammed bin Abdulrahman bin Jassim Al Thani. They had the opportunity to analyze in detail important regional developments of mutual interest, such as the situation in Libya and the Eastern Mediterranean.
On bilateral issues, both expressed the desire to further strengthen bilateral relations between Greece and Qatar. In particular, Nikos Dendias focused on the positive investment climate in the country, calling on Qatar to encourage investments in areas such as tourism and construction. Cooperation between the two sides within international organizations and possible exchanges of support within them were also discussed.
The FM also had a meeting with Jordanian Foreign Minister Ayman Safadi. Particular emphasis was placed on Jordan's stabilizing role in the region, as well as on the challenges it faces from the Syrian refugee mass flow. A major challenge which Jordan faces with sobriety, always setting the humanitarian threshold.
The Jordanian official further praised the very positive prospects of cooperation between the two countries, with particular reference to the added value of the tripartite with Cyprus. In this regard, the two sides discussed the preparation of the next Tripartite Summit expected to be held in Athens on a date to be agreed. The stabilizing effect of such partnerships on regional security and stability was highlighted, and the two sides pledged to work to further strengthen this scheme.
During his meeting with Secretary General of the Arab League Ahmed Aboul Gheit, the discussion focused on developments in the Eastern Mediterranean and the Arab League's cooperation with the EU.
Finally, Dendias also met with the Secretary General of the Islamic Cooperation Organization Yousef Al-Othaimeen./ibna