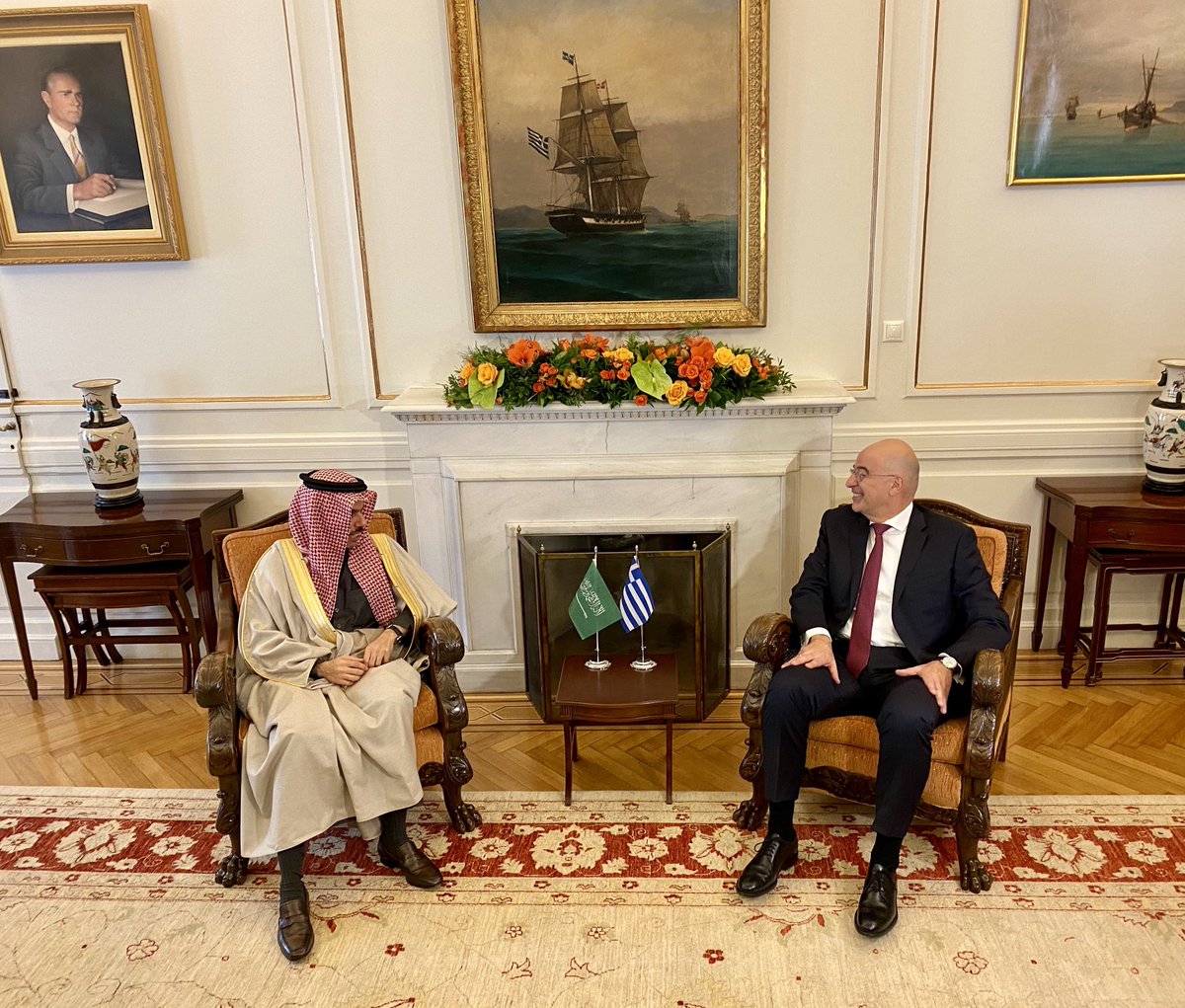 The Foreign Minister of Saudi Arabia, Prince Faisal Al Saud, was received by the Greek Foreign Minister Nikos Dendias at the Foreign Ministry in Athens.
It was the second meeting of the two men, following the visit of the Greek Minister to Riyadh on 17 December.
According to Nikos Dendias' statements at the end of the meeting, Greece and Saudi Arabia have gained a special momentum, with constant communication, as this is a strategic choice for Greece, given that Saudi Arabia is a particularly important country, not only in the Arabian Peninsula but in the wider region.
According to Nikos Dendias, discussion revolved around issues of bilateral cooperation, with a particular emphasis on the situation in Libya.
"As for Libya, our countries share the same concerns. We both understand that the two memorandums, signed by Mr Sarraj and Turkey, are invalid and non-existent", the Greek Foreign Minister said, adding that "it is particularly dangerous for the situation, both for Libya and for the wider region. It is, as Prime Minister Kyriakos Mitsotakis pointed out from Davos yesterday, 'outrageous', both in legal and geographical terms".
The two men agreed to remain in constant contact and also to work together as stabilizing agents in the area.
Invited to comment on the usefulness of the text of the German Ministry of Foreign Affairs' legal service that refers to the Memorandum of Understanding on Libya Turkey, the Greek Foreign Minister noted that "in principle it has a character confirmatory to our position. That is to say, in principle, to the German legislatures, to the German Government, to German public opinion, but also to European public opinion, that these two memoranda are completely illegal, absolutely unacceptable and in essence nonexistent. But it does something else. It highlights their most destabilizing role for security and stability in the region. It is not just two legal texts that are non-existent and harmful. They create a destabilizing reality. In this sense, this view of the legal service of the German Parliament is yet another stone in the Structure we are trying to build to persuade the international public about the dangers of these activities in our region".
To the question how is the Greek government facing the continuation of the Turkish provocations, Nikos Dendias noted that "Greece is not a country that opposes Turkey. Greece is a country that supports peace, stability, the application of International Law. And this is what it will continue to do. We would like to have a neighbor that is prosperous, a neighbor who shares the way we see things, that Europe sees things, and we will continue to move in that direction. And we hope that Turkey will eventually imitate us"./ibna