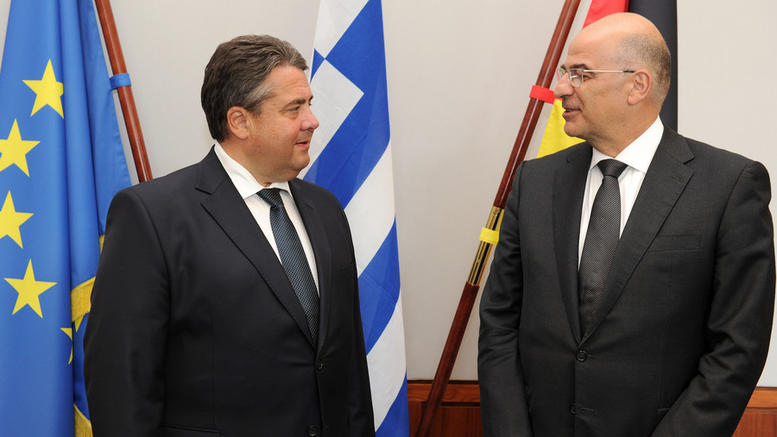 By Spiros Sideris – Athens
With the Vice-Chancellor and Minister of Economy of Germany, Sigmar Gabriel, who will visit Greece in private, next week, will meet the Minister of Development and Competitiveness Nikos Dendias, with the potential increase of greek exports to Germany high on the agenda.
This was inferred from what the Greek minister said in his speech, at a conference to promote greek agricultural products and food to the german market, which was organized by the Greek Society for Investment and Foreign Trade (Enterprise Greece) and the Embassy of the Federal Republic of Germany.
Dendias said that the cooperation between the German Embassy and the Enterprise Greece, established a working group to support the export of greek agri-food products and as the minister stressed: "we are not here just to discuss and improve public relations. I ask you to create an action plan with a timetable and tangible results. I will discuss these results with the Vice-Chancellor of Germany, who will visit Greece in private next week".
"I believe in this initiative, it has all the conditions to succeed. I support you and will personally oversee the progress and results of the initiatives of the working group", the Greek minister added.
Dendias reminded that the greek agri-food products is one of the areas that Greece has a comparative advantage. It is a sector that can compete globally with great success and further potential, since a significantly increasing number of companies operating in this sector have started producing new products in the last few years.
As the minister said, "to the structural weakness of the greek economy in the export sector must be taken into account the fragmentation of the greek enterprises that are active in the agri-food sector", to add that "small businesses that cannot benefit from large-scale economies. Despite the fact that the sector employs three times as many workers compared with our neighbors Italians and French in the EU, production remains low. The agro-alimentary sector contributes 3.5% to the GDP and employs 12% of the population".
Finally, the Minister referred to the positive contribution of the Mediterranean diet, as it is a global trend benefiting the greek products and the new generation of high-quality and nutritious products that is in progress.
The Ambassador of Germany to Greece Peter Schoof, stressed the high quality of Greek agricultural products and food stuff.