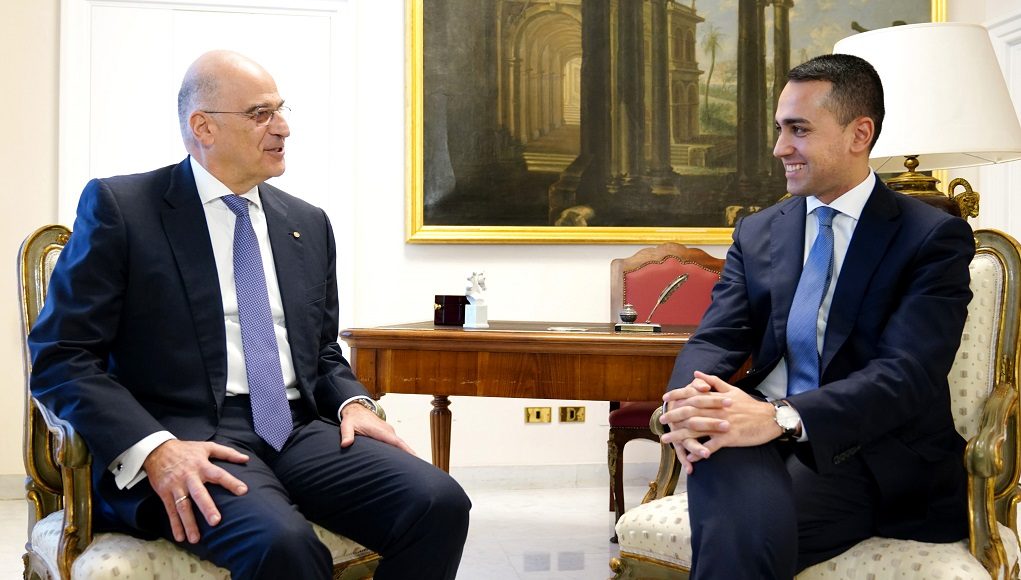 Greek Foreign Minister Nikos Dendias had a meeting with his Italian counterpart Luigi Di Maio in Rome today. As the Greek Foreign Minister pointed out, this was the third meeting between the two Ministers within two weeks, but the first one at a merely bilateral level.
"We thoroughly discussed on security issues in the region, but also on the broader issues raised in the Mediterranean after the signing of the two Memoranda between Turkey and Mr. Sarraj. We have the common understanding that these memoranda are illegal and non-existent; they destabilize our region and threaten peace … while one of them is attempting to usurp Greek sovereign rights", said Nikos Dendias, adding that they also have the effect of rekindling the civil war within Libya.
Dendias and Di Maio also discussed the important prospects in the field of energy security with the findings in the Eastern Mediterranean.
"We agreed on the added value of the EastMed pipeline, both for the countries, but mainly for our societies and our peoples. We are expecting that Italy will soon be signing the relevant agreement", Dendias commented.
In addition, the two Ministers reaffirmed the two countries' very close economic ties and the mutual willingness to further develop bilateral relations.
Finally, the two men agreed to continue to monitor closely the situation, both when it comes to Libya but also regarding the situation in the region in general, as well as to take coordinated action where necessary. /ibna