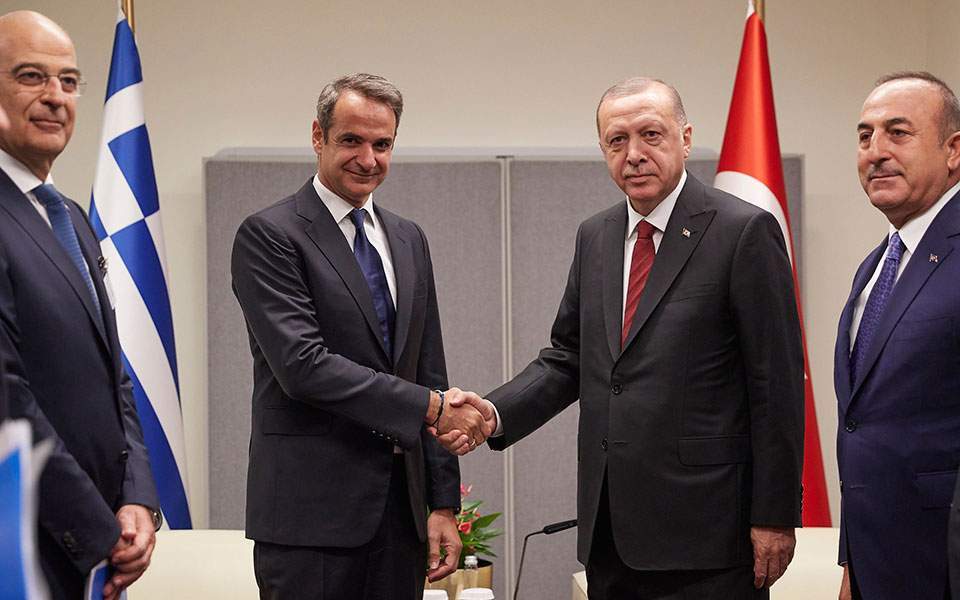 Following Turkish President Recep Tayyip Erdogan's "reconnaissance" meeting with Greek Prime Minister Kyriakos Mitsotakis in New York, talks will continue between Foreign Ministers Nikos Dendias and Mevlut Cavusoglu.
Sources close to the negotiations told IBNA that Cavusloglu and Dendias will co-operate on Thursday to create an agenda on Greek-Turkish relations, based on what has been agreed by the leaders of the two countries.
The topics that will dominate the agenda will concern the preparation of the Greece-Turkey Supreme Cooperation Council, which has been delayed for more than 2 years, with the last meeting taking place in Izmir between Alexis Tsipras and Ahmet Davutoglu in March 2016.
According to what diplomatic circles on both sides told IBNA, the refugee problem is also a priority, which is why at the end of the bilateral meeting European Commissioner Dimitris Avramopoulos was invited to the room on the 15th floor of the UN building, where discussions took place.
While the Greek side wants to reduce refugee flows to the Aegean islands, Turkey wants more resources to deal with the refugees already on its territory. Thus, according to IBNA, Turkey has asked the Greek side to push the EU for more money towards Turkey, agreeing to reduce both the refugee flows and the tension between the two countries. The withdrawal of the two research vessels is not a coincidence in this regard.
Dedias and Cavusoglu will also focus more on the Cyprus issue, which was not particularly discussed at the Erdogan – Mitsotakis meeting. The Greek Foreign Minister unofficially briefed his counterpart Nikos Christodoulides on the sidelines of the Greece-Armenia-Cyprus trilateral co-operation, as the Armenian Foreign Minister delayed coming to the meeting.
However, an extensive briefing on the Mitsotakis Erdogan meeting is expected to be given by the Greek Prime Minister himself to the President of Cyprus Nicos Anastasiades on Thursday, in the afternoon or evening./ibna