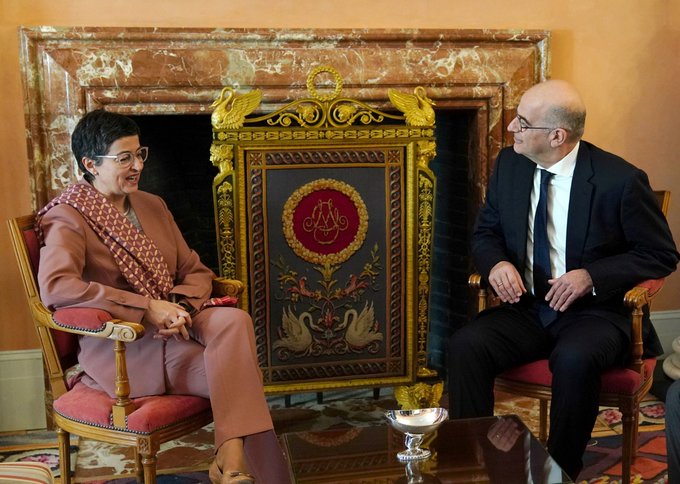 The Foreign Ministers of Greece and Spain, Nikos Dendias and Arancha Gonzalez Laya respectively, pointed out the excellent level of bilateral relations between Greece and Spain during the Greek Minister's official visit to Madrid.
"We agreed that they are at an excellent level, both politically and economically, with our countries working together on a wide range of issues. We have agreed to boost the financial sector in order to increase private investment on both sides, as well as our bilateral cooperation", Nikos Dendias stressed in a joint statement with the Spanish Foreign Minister after their meeting.
Special reference was made to the refugee-migration issue, since both countries constitute entry points and first asylum countries for refugees and migrants. In this context, the Greek Minister announced that he had agreed with his Spanish counterpart for the two countries to broaden their coordination within the European Union in the discussion and reform of the Union's rules on asylum, as well as on immigration in general.
Furthermore, Nikos Dendias stated that he had informed Arancha Gonzalez Laya of the serious consequences of Turkey's illegal behavior on the stability, security and peace in the Mediterranean, our common homeland as Mediterranean countries, as he noted.
"I stressed that respect for the Law of the Sea is a conditio sine qua non for peace and stability. I reiterated that the two Turkish-Libyan Memoranda, though void and non-existent, since they violate International Maritime Law and the UN Security Council Resolution on a Libyan Arms embargo, undermine precisely this good which is precious to all of us; stability. At the same time, they are sabotaging the efforts to cease fire in Libya. Both Spain and Greece are capable of assisting those efforts", the Foreign Minister said in a statement.
In a similar vein, the two Foreign Ministers discussed the Western Balkans and their accession prospects. "For Greece, this perspective is the only way forward. It is essential for stability and prosperity in the region. We believe that the European Commission's recent proposal to reform the accession process should not be further delayed", Mr. Dendias argued, adding: "Yet on the other hand, I have made it clear that the prospects of both countries have to do with their compliance with the conditionalities necessary for their European path".
Finally, Mr. Dendias and Arancha Gonzalez Laya discussed in-depth regional initiatives such as MED7. "MED7 could operate as an auxiliary engine for stability and peace in the region", the Foreign Minister noted. /ibna