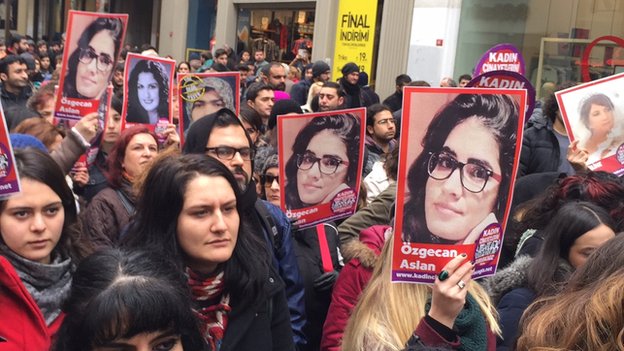 Ankara, February 17, 2015/ Independent Balkan News Agency
By Manolis Kostidis
The brutal murder of a 20-year student who was raped by a Mini-Bus driver has caused a great wave of protests in Turkey.
Last Wednesday, the student psychology Ozgecan Aslan, was kidnapped by a private minibus driver in Mersin in southern Turkey. According to the gendarmerie, the driver attempted to rape her and she defended herself with  pepper spray. The girl was found stabbed and beaten on the head with an iron pipe.
In order to eliminate all traces of the gruesome act, the murderer carried her remains in the woods, doused her body with gasoline and burned her.
After 48 hours of searches, at dawn Saturday men of the gendarmerie found her charred corpse.
The driver of the minibus was arrested, confessed his actions and said that his accomplices were his father and a friend.
Women took to the streets
The murder of the girl enraged the women in Turkey, who organised rallies in 13 cities with the slogan: "the murder of women must stop". Campaigns against the murders of women have also started in the internet.
The President of Turkey Recep Tayyip Erdogan expressed his condolences and his daughters visited the family home of Ozgecan. The leader of the Republican People's Party, Kemal Kilicdaroglu, said that "the fate of women cannot entail harassment, rape and murder".
Ahmet Davutoglu promised that the Turkish authorities will punish the perpetrators of the crime.
The number of victims is soaring
The organisations for the protection of women, however, state the in the last 12 years that the pro-Islamic government of AKP has been in power, attacks by men against women have increased by 1300%! In 2014 alone, 294 women were killed. In 2008, 80 women were murdered, while in 2002 the number of victims reached 47.
Hürriyet columnist, Ahmet Hakan, attacks the Religious Affairs Office of Turkey saying that "this service expresses views on any issue regarding how to dress, relationships and more, but it never mentions that the rape of a woman is a sin, that a man with sexual abnormalities cannot be a proper Muslim".
photo: bbc.com