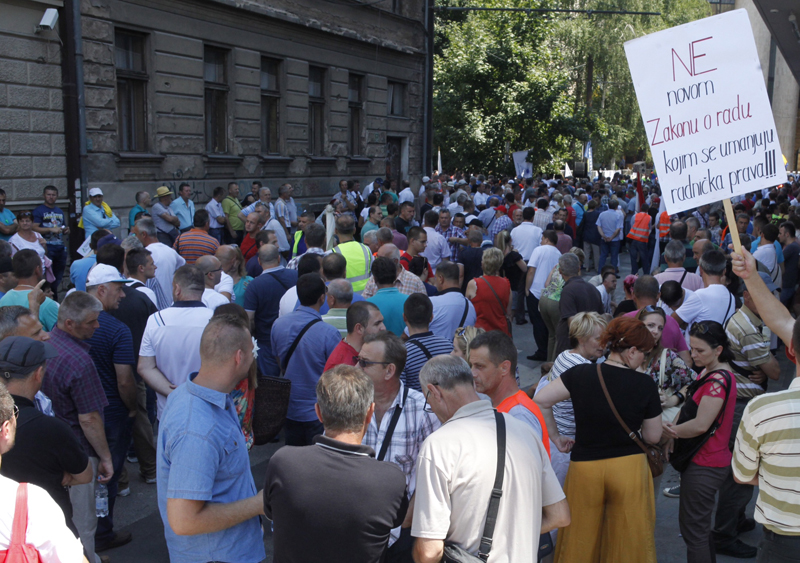 Sarajevo, July 30, 2015/ Independent Balkan News Agency
By Mladen Dragojlovic
Several thousands of workers and citizens from Federation BiH gathered on Thursday morning in the front of this BiH entity Parliament building to express their opposition to proposed changes in the Labor law.
As time passed, the protest became more violent and several time protesters broke the police cordon in attempt to enter the Parliament building. A large group of them, when they realised that adoption of this controversial law is possible, blocked the traffic in the Sarajevo city center, preventing other citizens to use city transportation. Trade union leaders, late in the afternoon, said that the law is adopted despite the protest.
The Labor law is one of the reform laws included in the Reform Agenda, and Federation BiH prime minister, Fadil Novalic, earlier tried to explain that the proposed changes are in favour and not against workers and their rights.
"This law is not political in nature, but is for the future of workers and citizens. It is a very liberal law and we must adopt it not because the EU is demanding it, but because it is good for us, Novalic said in his speech to delegates in Parliament House of Peoples.
He added that, if Parliament fails to adopt the controversial law, EU funds will remain closed and there will not be new jobs.
However, Trade unions revised the changes and concluded that 26 workers' rights are changed for the worse, or disappear. The House of Peoples session, which was held regardless the fact that several thousand of workers are in the front of building, was all but peaceful. Delegates were divided on this issue so several parties decided to pull out their representatives and escape the voting.
What's interesting is that demonstrations were attended by representatives of Trade Union of Republic of Srpska, leaded by President Ranka Misic. She, in her statement to the media, said that "only fools think that this law is good for workers".
"This law is like no other in the world and it is focused on enslaving workers. RS have ambitions to adopt a similar law so we are here today to support Federation BiH Trade Union protest and to say what we think about similar projects in RS", Misic said.
After the session, delegates had to leave the building through the small corridor without coming in contact with the protesters. At all times they were under strong police protection. Few minutes after that, the protesters disbanded in a peaceful way. Federation BiH trade Union leader, Ismet Bajramovic, called them to gather again tomorrow when Parliament House of Representatives will hold a session on the same issue. After this Parliament House adopts the law in the same text as the House of Peoples, it will be valid and free to be implemented.