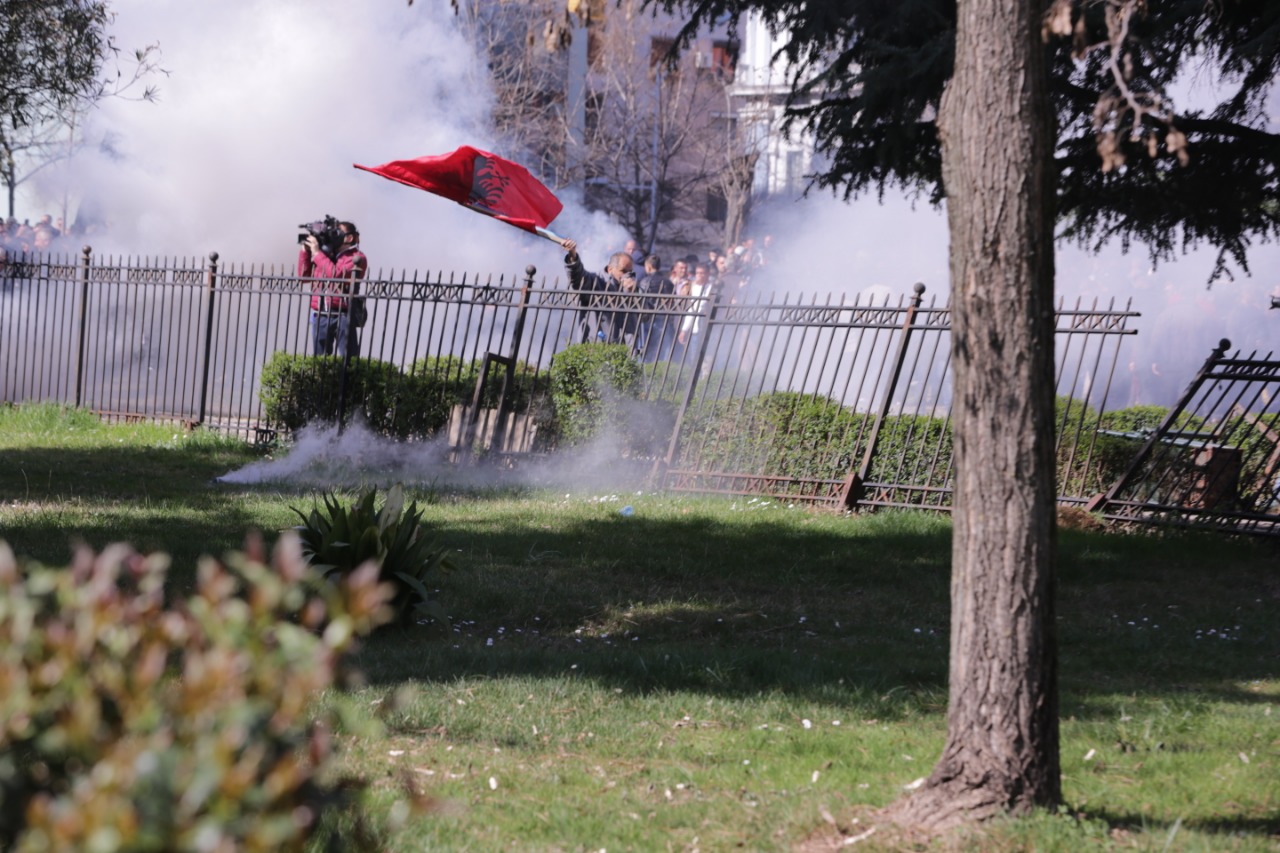 By Edison Kurani
Today, the opposition in Albania held a big rally in the capital Tirana demanding PM Rama's resignation.
Protesters initially gathered in front of the prime minister's office. Some of the participants delivered speeches there, but there were no political speeches.
The entire protest in front of the prime minister's office, which lasted two hours, did not register any violent incidents.
However, protesters threw smoke bombs and chanted slogans against the government.
Immediately after this, demonstrators headed toward parliament building. Once they arrived there, the protest took another turn.  Protesters started to engage in violent acts. Police and other security forces reacted by throwing teargas, causing injuries for many protesters, both peaceful and violent, pedestrians and people who were doing their job, such as reporters, police, etc. This situation went on for about 30 minutes.
Afterwards, opposition leader Basha directed protesters toward the Democratic Party headquarter, where he delivered a speech.
Basha said that today's protest was a historic one, adding: "We will throw his criminal government in the river. This is the only way we can restore democracy".
Meanwhile, Basha also addressed to the international community in English, saying that there's no stability without democracy.
On the other hand, the head of the government, Edi Rama was in Berat for a government activity. He said that these events may have an effect on Albania's integration path. In June, the EU is expected to decide whether to give way to the country's accession talks.
Today's protest lasted four hours, although the opposition had announced that it would go on for 48 hours.
In contrast to other protests, Mr. Basha did not announce another protest soon.
What was seen and implied today by the leader of the Democratic Party was the fact that the opposition had two scenarios. One of them was in front of the PM's office, where there was no violent incident.
The second scenario was in front of parliament, where there were numerous violent acts and clashes between riot police and demonstrators.
Basha said that the government saw how people react, implying that he does not prevent protesters from reacting in such ways.
It remains to be seen how the opposition will react in the days to come. /ibna/