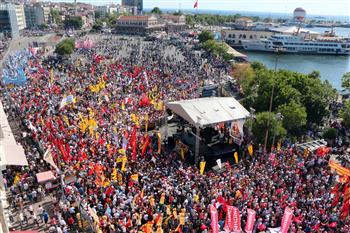 Thousands gathered in Istanbul's Anatolian district of Kadıköy to mark the upcoming 20th anniversary of the Sivas massacre, upon a call from Alevi associations.
A number of unions as well as the Taksim Solidarity Platform, a local organization that launched the Gezi Park protests, also attended the demonstration. A representative of the platform made a speech emphasizing that their demands had yet to be met by the government.
The crowd was commemorating the killing of 35 people on the night of July 1-2, 1993, in an arson attack led by a mob on a hotel where many Alevi intellectuals and artists who had come to Sivas for a conference were staying. The controversies surrounding the pogrom have never completely been uncovered and an Ankara court dropped the case on the killings in March 2012, ruling that the charges against the suspects exceeded the statute of limitations. The Madımak hotel has since become a symbol of the discrimination faced by the Alevi community, who have long asked the state to turn it into a memorial museum.