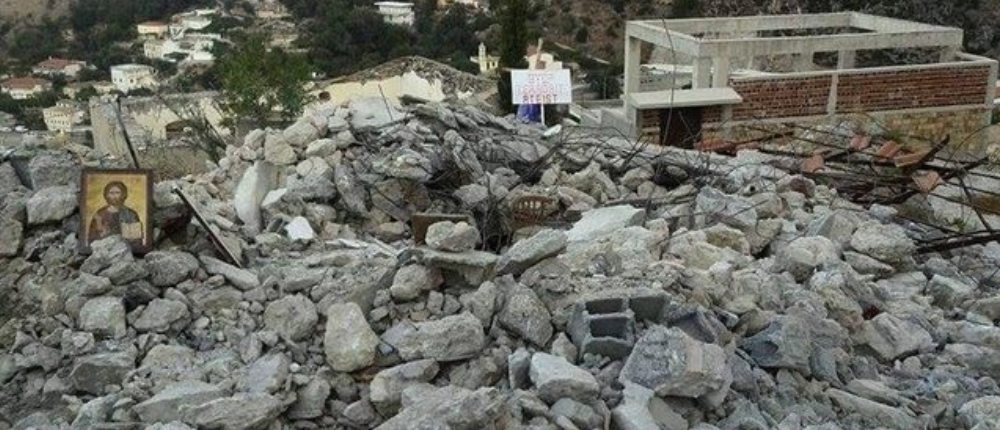 Athens, August 27, 2015/ Independent Balkan News Agency
By Spiros Sideris
The demolition of the church St. Athanasios was completed at dawn on Wednesday in Himara by the planning authorities of Albania, despite the reactions of the Greek minority, the Orthodox Church of Albania and the intervention of the Greek Foreign Ministry.
According to information, from the Albanian authorities plan to build a monument in honour of the missionary of Catholicism Nilo Catalan, who was active in the late 17th century, however, officially the competent authorities argue that the temple was built arbitrarily without permission in 1994.
Demolition works began Tuesday, despite the reactions of residents, while Albanian Prime Minister Edi Rama commented on the issue via Twitter saying:
"It's both for laughing and crying that they call church a building like a garage and complain because we bring our heritage to life!".
The news of the demolition caused the strong reaction of the Human Rights Union Party (CyNet) that represents the national Greek minority in Albania, which speaks of "state vandalism", and calls on the international community to intervene in order to "protect the spiritual values ​​and in particular, ensure the respect for religious freedoms and human rights of minorities in general".
"No one is more ungrateful than he who was benefited" is the poignant saying of the Greek Foreign Ministry spokesman Constantine Koutra, answering to journalists' questions regarding the current demolition of the temple.
"The destruction of sacred places and objects of worship took place, at least until recently, in the wider Middle East and North Africa by jihadists. Today, we also saw this take place in the neighboring country, Albania, "she said, leaving open the possibility to appealing to the international community".
ND MEP Kefaloyiannis raises an issue regarding Albania's accession progress in the EU, but also respect for human and religious rights, after the final demolition of the church, in question to the European Commission.
The head of ND parliamentary group MEPs in his question gives a brief account of the events that had taken place between residents and the Albanian authorities, arguing the these incidents "come as a continuation of declarations of nationalist character of the Albanian Prime Minister about a 'Greater Albania' and the challenging of sovereign Greece's rights in the EEZ".
The head of the Department of Foreign Affairs of New Democracy, Giorgos Koumoutsakos made the following statement:
"Yesterday (Tuesday), we had the offensive discursive statements by the Albanian Prime Minister, Rama, who described as a 'garage-like building' the chapel of St. Athanasius in Drymades, Himara.
Today (Wednesday), at dawn, at 4:00 am, came the inescapable result of these deliberately provocative statements. The chapel was demolished and its sacred utensils were buried at its remains. The violation of religious freedoms and rights is a major issue. This is not a bilateral Greek-Albanian issue. It is much bigger. It concerns the Albania-Europe relations.
As such it will be addressed during the accession process of Albania".