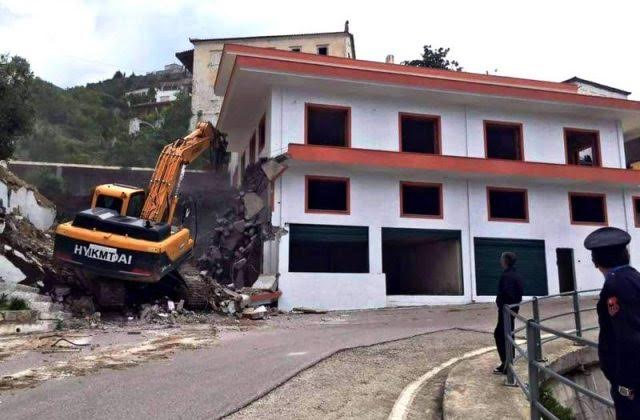 In the south of Albania, local government in cooperation with the central government, are rehabilitating the center of the town of Himara. The first phase transformed a part of the center several months ago. Meanwhile, the second phase includes the demolition of several houses.
Among them there are 19 houses belonging to the Greek minority. The mayor of Himara, Jorgo Goro has sent a letter to the families on 28 October, giving them 5 days to empty their homes, as they would be demolished.
Last June, when this plan for the rehabilitation of the center of Himara was presented to the public, sparked many negative reactions among the residents of the center of the town.
PBDNJ – Unity for Human Rights Party, which defends the rights of the Greek minority in Albania, says that "one can easily understand the absurdity and the scope of this project. This is not a project for the local community, but a project which aims at seizing their property and transferring it to third parties".
The leader of this party, Vangjel Duke stresses the fact that buildings belonging to businessmen are not included in the demolition plan. "Next to the 11 storey buildings belonging to Koco Kokedhima, authorities decided to demolish the 200 year old homes of Konomi and Bollano families, with the only scope of raising the value of Kokedhima's properties. Here we're dealing with an absurd vandalism, which aims at evicting locals and favor companies and third parties", Dule said.
PBDNJ suggests that this is not a development plan, but a plan to evic locals. "How can we speak of a development plan, when every movement being made is against the local community. Here we have the Beno family case, where "development" removed four families abroad".
Dule considers this pressure against the community of Himara and asks the Prime Minister to put a stop on the project.
OMONIA organization considers the fact that mayor Goro has signed the eviction notices for the owners of the homes on Greek National Day as a serious provocation.
OMONIA points out another concern: Many of the families have invested their savings in the reconstruction of their homes in the recent years. Meanwhile, it stresses the fact that these homes have been built on lands which have been inherited by the members of the minority community: "These homes belong to the residents of Himara. They have been inherited by their predecessors or they have been built on their land with money earned through many years of work".
The Greek embassy too reacted strongly against the demolition of these homes. It reminds to authorities in Tirana and the protection of the rights of property and the rights of the minority is one of the five conditions that the EU has imposed on Albania for the launch of accession talks, which are expected this year.
"Therefore, if Albania truly wants to be integrated in the EU, it must know how to prove how the rule of law functions, by defending all communities, regardless of their nationality from arbitrariness and unlawful acts". /balkaneu.com/