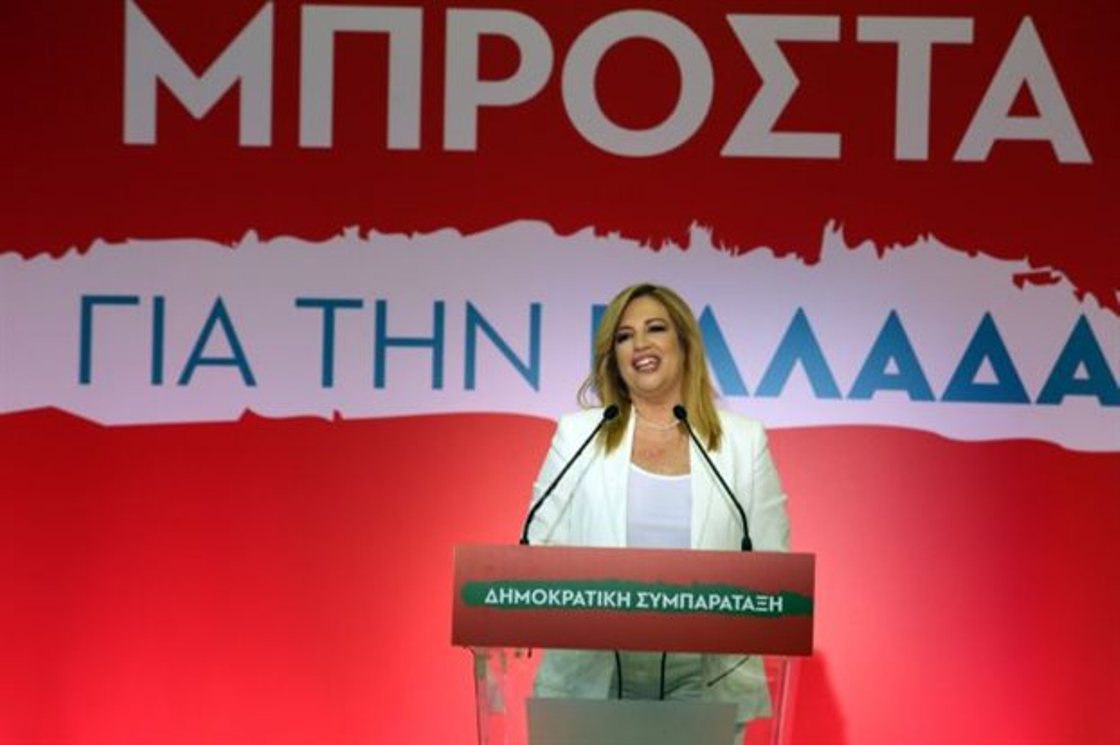 The three-day Congress of the Democratic Coalition completed its proceedings on Sunday.
PASOK leader Fofi Gennimata presented a proposal and timeline for a founding conference to create a new, unified "democratic progressive party". A new symbol and political manifesto of the Democratic Coalition were approved unanimously by approximately 2,500 delegates on the last day of the three-day conference on Sunday.
Gennimata called for the election of a leader for the new entity by the "social base" in October using "open and transparent procedures" and a new members' register including all those that participated in the election. The PASOK leader also heralded a conference before the end of December 2017.
She also proposed the formation of an independent committee, chaired by Constitutional Law professor Nikos Alivizatos, to take charge of organizing and supervising the party leadership election and founding congress.
Gennimata called on all sides of the center-left to join forces: "It is time for simple and clear solutions. We will all be judged by the citizens for our stance. There are no margins for distortions, games and false dilemmas."
The PASOK leader ruled out cooperation with SYRIZA, strongly attacking Prime Minister Alexis Tsipras for "betraying the progressive citizens that put their trust in him." Gennimata called for an early election in which she predicted that SYRIZA will be heavily defeated.
She added that it is necessary for the Democratic Coalition to find common ground with other parties and for political forces to achieve a consensus on important issues. Gennimata also noted the need to restore the strength of democracy and the institutions.
The Congress was attended by former PASOK Prime Ministers Costas Simitis and George Papandreou, former party leader Evangelos Venizelos, the leader of the Democratic Left (DIMAR) Thanassis Theocharopoulos, while New Democracy leader Kyriacos Mitsotakis and To Potami leader Stavros Theodorakis also delivered speeches.
Yannis Ragousis – a former PASOK minister – who had formed a centrist political movement called Decision Time with former ministers Anna Dimantopoulou and Giorgos Floridis openly backed the Democratic Coalition and attended its Congress, thus severing his ties with the movement.
Ruling SYRIZA was represented by government spokesman Dimitris Tzanakopoulos who told the Congress that the center-left will be judged on the choices it makes now and balancing between the right and left of the political divide is not an option.
In an interview with Nea Selida newspaper in June, Prime Minister Alexis Tsipras said his party was ready to open a dialogue of cooperation with the progressive political forces of the country after the end of the bailout program, calling on PASOK to "find its progressive orientation" and "open a frank and unprejudiced dialogue" with SYRIZA.
The call was flatly rejected by Gennimata who, according to analysts, has been successful in laying the groundwork for the creation of a center-left entity that could be a real force in the next election.
Conversely, the presence of Kyriacos Mitsotakis at the Congress was seen as a move of good-will with an eye on future political developments. The ND leader said many things divide the Democratic Coalition and the conservative party, but the things that unite them were even more. He spoke of the importance of reaching an understanding on major and difficult issues, adding that the two parties have proved they can make decisions in the national interest when necessary./ΙΒΝΑ