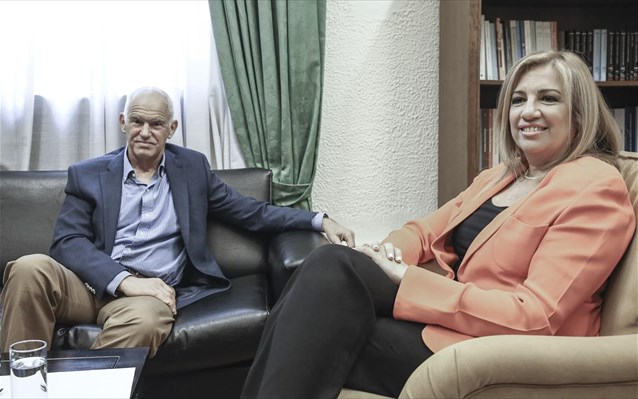 Former PASOK leader Evangelos Venizelos launched a thinly veiled attack of ex-Prime Minister Giorgos Papandreou over his decision to join forces with the socialist party as part of the Democratic Alliance.
Addressing a PASOK Central Committee meeting on Sunday, Venizelos said "unity and rallying does not mean restoration", adding that "some owe at least an explanation" and an apology for leaving the party in difficult times.
Former Prime Minister Giorgos Papandreou left PASOK two years ago to form his own party, the Movement of Democratic Socialists. PASOK MPs at the time joined him, leaving PASOK on the brink of collapse after supporting harsh austerity measures imposed by Greece's creditors.
PASOK, then led by Venizelos, said in a statement that Papandreou "is behaving like an heir who wants to destroy the PASOK that his father founded". Two years on and Venizelos has not forgotten. "I shouldered the burden when others fled like rats from a sinking ship" he told party cadres as he expressed reservations over the deal struck between current PASOK leader Fofi Gennimata and Papandreou for the latter to return.
Papandrou made his decision to rejoin his old cadres last week, pointing out that "the only way for Greece to emerge from a continuing crisis is for all the forces of "democratic socialism" to work together".
Fofi Gennimata has led a campaign to attract figures of the center-left, ex PASOK ministers and MPs as well as other liberals to the Democratic Alliance of PASOK, DIMAR and People Movements. She has invited To Potami to join the Alliance too but talks between her and Stavros Theodorakis have stalled.
Last week MP Ilchan Achmet announced he is leaving To Potami party. The move left the party of Stavros Theodorakis with seven deputies. Achmet joined the parliamentary group of the Democratic Alliance.
Gennimata's initiative aims to make the Alliance at least the third political power in the next general election. So far her efforts appear to have borne fruit despite the reservations expressed by Venizelos who, nevertheless, is not expected to leave the party.
In a related development over the weekend, former PASOK ministers Anna Diamantopoulou, Yannis Ragousis and Giorgos Floridis held an official event to announce the launch of a joint initiative to create a unified, large progressive movement to challenge Syriza. The initiative appears to have the support of To Potami leader Stavros Theodorakis too and it remains to be seen if there will be overtures on behalf of the Democratic Alliance.
Analysts point out that developments in the center-left of the political spectrum have the potential to boost the Democratic Alliance whenever elections are held as well as "freeze" any plans at Syriza to shift the party away from the radical left, bringing it closer to social democratic ideals./ΙΒΝΑ