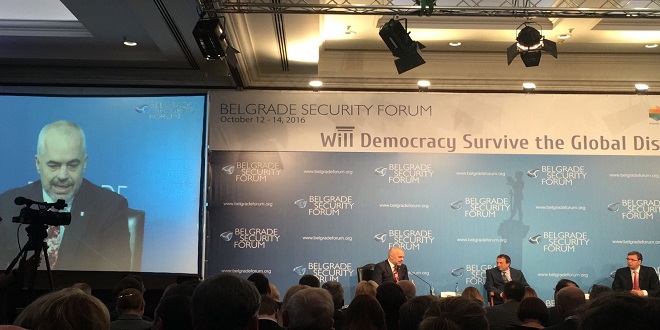 Tirana, 3 October 2016/Independent Balkan News Agency
A Balkan summit is being hosted in Belgrade with the participation of the prime ministers and other senior officials of the region and several other European countries.
Present in this summit is also the Albanian PM, Edi Rama and the Serb PM, Aleksandar Vucic.
This forum dubbed "Can democracy survive to global unrest?", concludes that the Balkan countries can leave the way the countries have behaved to each other behind and collaborate with each other in the integration path.
Such thesis was stressed by Mr. Rama and was backed by the Serb counterpart, Vucic, who said that "the countries of the region must not damage each other, as this prevents integration and economic growth".
Vucic also stressed on cooperation. "I am proud to say that we want good relations with Albanians and Bosnians. This is the best way to have faster economic growth than other EU countries. If we damage each other, we cannot move forward, but if we collaborate, we will move forward. The EU often imposes new tasks", Mr. Vucic says.
For Albanian PM, Edi Rama, the EU accession is not the only important thing. According to him, path toward integration and modernization of societies is the most important thing. "I think that at least, we, in the Balkans, will be clear on something very simple: the EU process is not a journey to a destination, because some people expect this from us. It is a path toward modernization which is possible for our societies, through EU integration", Mr. Rama said. /balkaneu.com/