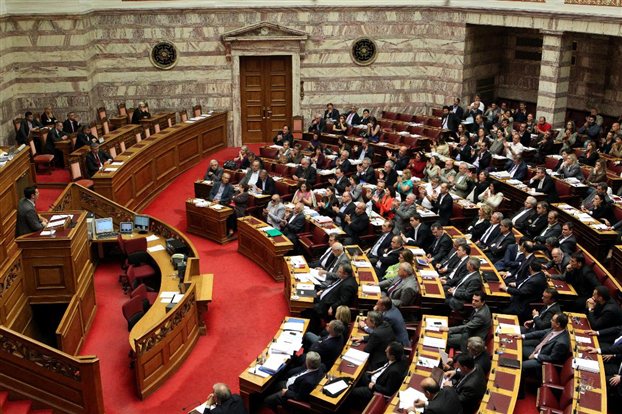 New Democracy announced its own proposal for the presidency of the National Council for Radio and Television (ESR), just hours after a government proposal was rejected in a competent parliamentary council meeting.
The conservative party put forth the candidacy of Athanasios Koutroumanos, a former president of the country's top court. New Democracy spokesman Giorgos Koumoutsakos said Koutroumanos is "a person of recognized standing and widespread acceptance on which all political forces can agree".
Koutroumanos began his career in the judiciary in July 1974 and was promoted to Areopagite judge (Supreme Court) in August 2006 following a series of promotions. He was appointed vice president of the Supreme Court in July 2011. He was voted president of the Supreme Court in 2014.
In an announcement, Koumoutsakos again accused the government of "authoritarian machinations" in its attempt to manipulate the media. He added that his party demands the revocation of the Pappas Law in its entirety.
On Thursday, Greek parliament is set to vote on the amendment that suspends Article 2a of the Pappas Law that stipulated that the authority to conduct an auction for TV licenses would be transferred from the National Broadcasting Council (ESR) to the Ministry of State.
On the same day, the Parliament Presidents' Council will reconvene to discuss a proposal by Nikos Voutsis for the ESR board. Voutsis will propose the same members and duo of Rodolfos Moronis as president and Nikos Kiaos as vice president.
Local reports suggest there is a chance that a new ESR will be approved on Thursday even though New Democracy demands a cross-party agreement on a clear provision regarding the ESR's authority is voted in Parliament before the council is convened.
In a vote on Monday, the Moronis candidacy was very close to the 4/5 majority required (19 of 24 votes) as Syriza, Potami, Democratic Alliance and ANEL all voted in favor. New Democracy and KKE abstained while only Enosi Kentroon rejected it.
In his meeting with New Democracy leader Kyriacos Mitsotakis yesterday, President of the Hellenic Republic, Prokopis Pavlopoulos, reportedly urged all sides to show restraint and strive for consensus./IBNA