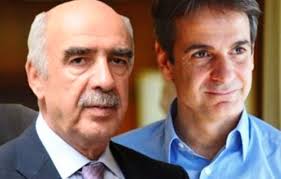 Athens, December 21, 2015/ Independent Balkan News Agency
By Zacharias Petrou
Evangelos Meimarakis and Kyriacos Mitsotakis are the two front-runners in the New Democracy leadership election which took place on Sunday in Greece. The two will go head to head in the second round that will be held January 10, interim party chairman Yannis Plakiotakis confirmed.
The turnout for the vote was impressive with more than 400.000 people voting in 197 ballots across the country. Citizens participated in large numbers despite the vote being called off the first time one month ago due to technical problems.
A technical problem shut down the voting system for about half an hour all across Greece on Sunday causing a delay but the election was wrapped up succesfully.
The two front-runners, Meimarakis and Mitsotakis received roughly 40 percent and 30 percent of the vote respectively, according to unofficial results. Around twenty percent voted in favor of Apostolos Tzitzicostas and almost 10 percent opted for Adonis Georgiadis.
Kyriacos Mitsotakis thanked New Democracy supporters for turning up to vote, "taking the party in their own hands" and "sending a strong message to the incompetent Syriza government". He also called on party supporters to turn up massively once again on January 10, in the second round, to lead New Democracy into a new era.
The candidate who came first, E. Meimarakis said "there are no winners or losers tonight. New Democracy is the winner". A. Tzitzicostas who came third congratulated the two front-runners having conceded defeat as well as fourth placed A. Georgiadis adding that he will continue to fight for the unity of the party.
New Democracy party sources said the succesful vote and the impressive turnout was a clear message to Prime Minister Alexis Tsipras that he is not alone and that a large number of citizens want the country to be governed differently.
In the second round of voting only those who voted in the first round will be eligible to participate. Therefore it is very important who the 3rd and 4th placed candidates will endorse.
Analysts point out that Adonis Georgiadis will most likely openly back Kyriacos Mitsotakis while Apostolos Tzitzicostas is likely to avoid endorsing either of the two front-runners.