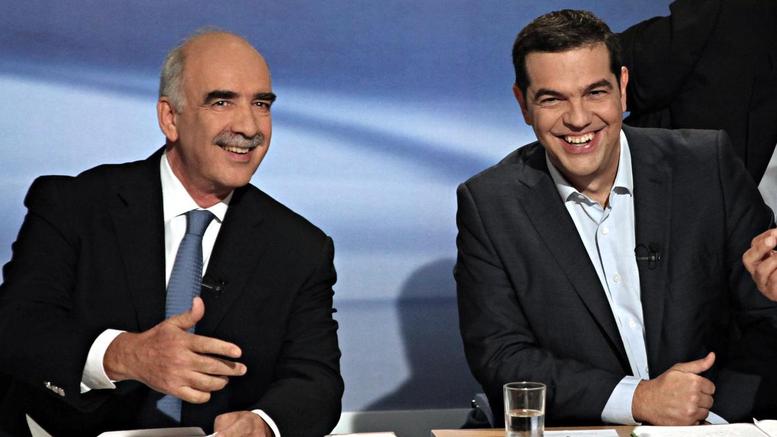 Athens, September 11, 2015/ Independent Balkan News Agency
By Zacharias Petrou
In an interview with TV station "Kontra" on Thursday evening, New Democracy leader Evangelos Meimarakis invited Syriza leader Alexis Tsipras to discuss a platform on which they could cooperate before the September 20 snap election.
Meimarakis said the two election frontrunners should negotiate a common program they can implement as part of a coalition government after the vote. He did however criticize Tsipras for refusing to negotiate with him and that the people should question his divisive tactics.
Meimarakis spoke after Wednesday's televised debate among political party leaders which produced no clear winner. The New Democracy and Syriza leaders will now face each other at another debate due to take place September 14.
This duel may prove crucial with a large part of the electorate – between 8 and 12 percent – still undecided, according to latest opinion polls.
"If the second party does not want to join in, I will turn to the parties which believe in the country's European course and with which we can at least agree on a plan of a viable government, hopefully a four-year term one", Meimarakis told Reuters earlier on Thursday.
A New Democracy-led government, he said, would try to ease taxation and seek a restructuring of its debt.
The ND leader is due in Thessaloniki this weekend for a speech as part of the city's international fair. Analysts point out that this will be a good opportunity for Meimarakis to highlight his own party's program, instead of just attacking Tsipras. Having ralied most of the conservative party supporters, observers stress Meimarakis should now send a positive message that would inspire undecided voters to opt for New Democracy over Syriza.
If New Democracy comes first, it would offer Syriza the chance to form a "grand coalition", as the conservative leader has revealed. However, Syriza has said it intends to cooperate only with the Independent Greeks party (ANEL), its partner in the previous government.
The fear for Greece and its ailing economy is that failure to form a government could lead to yet another election before the end of the year.