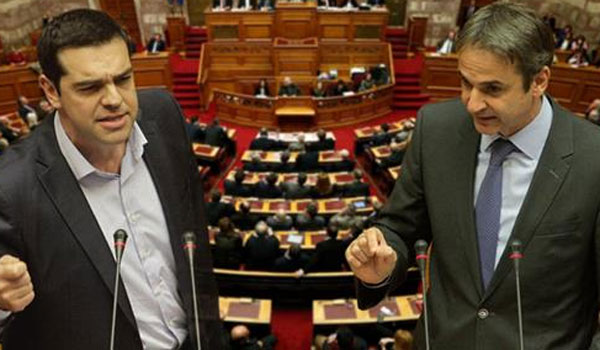 Athens, April 5, 2016/Independent Balkan News Agency
By Spiros Sideris
Main opposition party New Democracy calls the Prime Minister Alexis Tsipras to reply to seven questions and accuses him of irresponsible behaviour.
"The latest amateurish handling of the Prime Minister and his Maximus pals, resemble more and more the pernicious for the country 2015. When Alexis Tsipras led the country to:
– the closure of banks,
– the capital controls,
– the risk of leaving the euro,
– the collapse of the economy,
– the 3rd painful Memorandum "
says the announcement of the main opposition party and calls A. Tsipras to give direct answers to the following questions:
Isn't he who, in July, along with Euclid Tsakalotos begged the IMF to participate in the program and what's more for three years? When was he right? Then, when he considered the IMF an ally and its participation necessary to programme or now?
Why does he pretend to not know the pressing claims of the IMF, appearing supposedly surprised and attempts to dramatize the situation?
Doesn't he understands that artificial dramatization can lead to tragic deadlocks dangerous for the country?
What is he really planning and what is he going to do in the event of a rupture with the Fund and an impasse in the evaluation?
His correspondence with Mrs. Lagarde and particularly the response of the IMF Director General, damages or not the negotiating position of the country? Does it hurt or not the image of our country?
Why did he not close the evaluation when he should have and now the Greeks have to pay with a "tax storm" and pension cuts the cost of delays, of over EUR 5.5 bn?
Why three days after the relevant disclosures doesn't he officially confirm that there is no involvement of government agencies in the wiretap, so that the country does not become internationally vilified and targeted?".
Government: New Democracy should not expose itself so much
The government's response to ND's proposal came immediately and in an emphatic way.
"We did not expect the '7 questions' of New Democracy to realize that the main opposition party is in complete alignment with those who try to undermine the evaluation closure.
Those who signed white papers, leading to the destruction of the economy and society, those who pressed the government to accept devastating for Greece terms in the latter agreement, those who commissioned the negotiation to executives like Mr. Papastaurou, let them not pretend today that they are anxious for the future of our country and our people.
Let them not expose themselves so much".