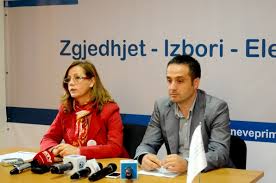 Pristina, November 29, 2013
Civil society has identified violations during the electoral campaign for the runoff elections and political parties have manifested a lack of political ethics. These were the conclusions drawn by "Democracy in Action" organizations.
This union of organizations published on Friday the findings on the observation of the electoral campaign for the runoff, according to which the electoral race has been associated with a strong political language by candidates and political parties.
"The strong language has gone beyond the Code of normal behavior, something that political parties have signed before the start of the campaign. We continue to call on political parties to continue and respect the Code of good conduct and legislation in force. They must moderate their language, by offering programs and platforms, because such language may be discouraging for voters to participate on the December 1 elections", declared before journalists Shqipe Pantina, representative of "Democracy in Action".
Meanwhile, prime minister of Kosovo, Hashim Thaci has considered these elections as historical.
"I'd like to congratulate all the winners of the first round, while I invite the entire political spectrum to continue with a fair campaign. I'm persuaded that the December 1 elections will have a high standard", said Thaci.
Voters in 25 communes of the country will be invited for a fresh round of elections on December 1, as their candidates could not win 50% of votes on November 3.
"The first round has been a good process with a significant participation, but the elections have also been praised by international community. I can say that we have passed an important European test for ourselves and our state and we have also sent the best political message", declared Thaci. /ibna/