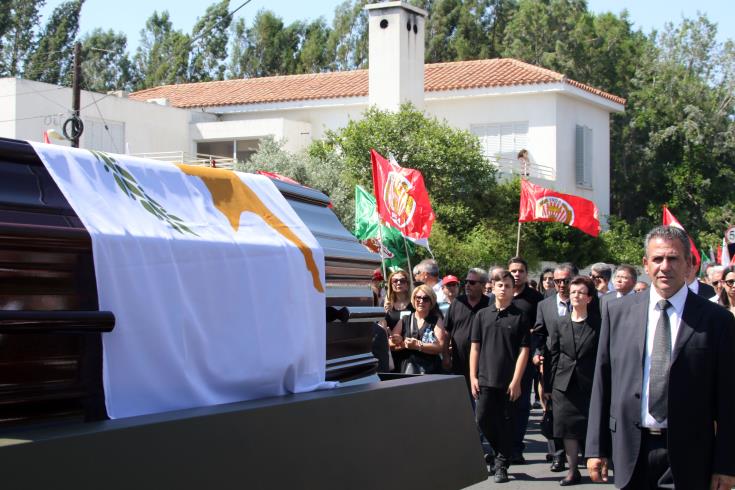 Sensational farewell speech by his son Christos
Του Μιχάλη Μιχαήλ
In the presence of the President of the Republic Nicos Anastasiades, the President of the House of Representatives Dimitris Syllouris, the Prime Minister of Greece Alexis Tsipras, the Cabinet of Ministers, state and military officials, representatives of states and governments, the exodus of the former President of the Republic of Cyprus in the series, Demetris Christofias.
Also noteworthy was the presence of the Turkish Cypriot leaders who attended the funeral, honoring the Cypriot, as he identified wizdom himself, politician. The funeral of the former President was held at the church of the God of, with honors of a President of the Republic.
A crowd of people had gathered around the church, including many Turkish Cypriots who gathered to bid farewell to their companion, brother, agonist, companion, the thrilling big heart that could fit everyone and which has fallen silent forever. The former President's body came to the church at about 16.00 in a procession set in gunpowder guns. The coffin was covered with the Cypriot flag. During the transportation of the body, AKEL was paying prizes, and members of AKEL were voicing the name of their party.
The family of the deceased received the condolences of officials and foreign representatives before the procession of the sequencing within the temple. During the condolences and the liturgy, members of AKEL and the PEO remained with the deceased remained.
The liturgy was preceded by Metropolitan of Kykkos Nikiforos.
The funeral speeches
In his speech, AKEL Secretary General Andros Kyprianou, referring to the words of Demetris Christofias himself, said that the most important thing that Christofias did was that he bled and dreamed with the people.
In his farewell to his father, on behalf of the family, "Christos Christofias said, "You depart the worldly with your forehead high, since as a Communist and as a man you did your duty. You depart as you came, with your hands clean. Honest, decent and whole to the end". At the time of the discourse, the temple was from time to time in the applause of the crowd crowded within the church and on the precinct.
As Christos's son said goodbye to Demetris Christofias, his father passed away with the Longing of his birthplace, Dikomo. The coffin with the former President's body was transferred to the tomb by his men's guard.
The procession arrived with the sound of the Philharmonic of the Police, while the Guard of the National Guard paid tribute. The crowd that had to say the last goodbye to Demetris Christofias broke into applause.
One in the ground thousands in the fight, shouted the attendants while the burial lasted. A cracked voice broke the mute mourning that followed, screaming with a sob: "The death of the brave is not considered death".
After the burial, three farewell shots were shot from an honorary detachment of the National Guard./ibna