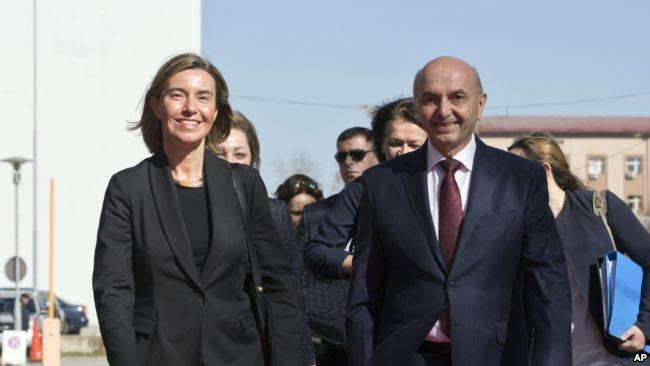 The failure to ratify the border demarcation agreement with Montenegro continues to prevent Kosovo's European agenda.
Disagreements and the lack of dialogue between opposition parties in power have blocked the process of the liberalization of visas for the citizens of Kosovo.
During her visit to Kosovo, the head of EU foreign policy, Federica Mogherini, called on political leaders to reach an agreement about the border agreement with Montenegro and to continue their dialogue in order to address internal and external issues of the country.
She said that after the meeting with Kosovo's PM, Isa Mustafa, that the last year's proposal of the European Commission on the visa regime has been clear. There are two clear conditions.
"The first one has to do with the fight against organized crime and corruption and there has been progress in it. Secondly, Kosovo must ratify the border demarcation agreement with Montenegro, where unfortunately, there has been no progress since my last visit here in 2016", she said.
"I want to be clear that time has come to move forward and to ratify the agreement with Montenegro", Mrs. Mogherini said.
But despite of the meeting with Mrs. Mogherini, opposition parties didn't issue any signals in terms of changing their position toward this agreement, because according to the opposition, Kosovo loses 8 thousand hectares with it.
Mrs. Mogherini facilitates talks between Kosovo and Serbia, who were involved in a wave of political tension since the start of 2017.
In the past two months, Mogherini has summoned in Brussels the most senior leaders of the two countries to reduce tension and secure the continuation of talks for the normalization of relations between Kosovo and Serbia.
On the other hand, Kosovo's PM, Isa Mustafa has sought the EU's help to overcome differences with the opposition about the issue of the border demarcation with Montenegro.
The Prime Minister of the country expressed his engagement of the realization of the reforms which will enable the country to become an EU member and the continuation of dialogue with Serbia. /balkaneu.com/