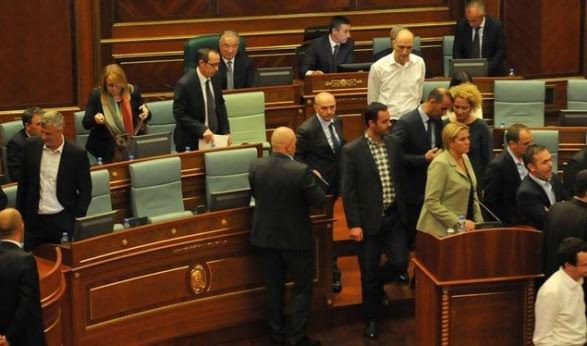 Pristina, 19 July 2016/Independent Balkan News Agency
By Elton Tota
Border demarcation with Montenegro continues to dominate Kosovo's political arena. For almost 11 months since the signing of the agreement, integration processes, economic development, reforms and the development of domestic democracy have been left aside.
Analyst Gjon Culaj told IBNA that being focused on the demarcation with Montenegro, the government of Kosovo and the opposition have not addressed the crucial problems concerning the citizens such as unemployment and poverty.
"During this whole time, there's been a lack of unity and dialogue between opposition and government on issues that concern the citizens of the country. Economic and development projects have not been completed and European integrating process has stagnated, while a number of problems have accumulated in the health system, education and other domains", Culaj says.
He says that under these circumstances, political dialogue and consensus between all political forces in the country is necessary.
The same opinion is also shared by analyst Shkelzen Dakaj. Dakaj told IBNA that the fact that the government and opposition have only been concentrating on the demarcation agreement and the Association of Serb Communes, have prevented all the processes regarding economic, social and cultural development of the state of Kosovo.
He believes that a lack of readiness and professionalism has been noticed by the government of Kosovo to address these topics seriously and to offer the necessary explanations.
In spite of the criticism addressed to the government of Kosovo of putting aside other important issues for the development of the country, government representatives claim the opposite.
Sokol Havolli, chief of cabinet in the Prime Minister's office, says that the government has continued to work on other issues, especially in the domain of economy and that there are no delays in any projects.
"Although more focus has been given to issues such as demarcation or the association of Serb communes by the media, this doesn't mean that aspects of economic development have been left aside. Let us not forget that the Paris Summit was held a few days ago, but the media's attention was not adequate", Havolli says.
Demarcation agreement between Kosovo and Montenegro has been signed at the end of August last year in Vienna. But, this agreement has not yet been ratified, as opposition parties have rejected this agreement, by considering it as unacceptable and damaging for the country.
During this time, the opposition has held several massive protests in order to reject this process. /balkaneu.com/