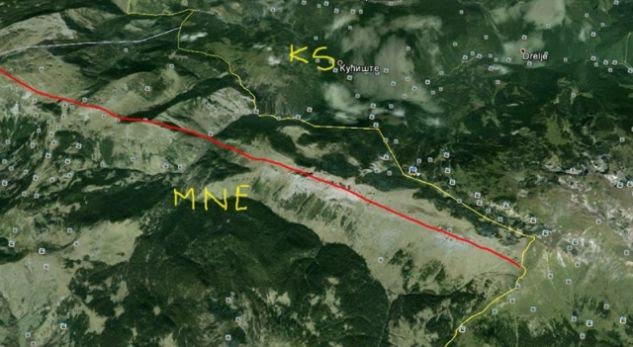 Pristina, 29 June 2016/Independent Balkan News Agency
By Elton Tota
Demarcation Agreement for the border between Kosovo and Montenegro signed at the end of August last year in Vienna, is heading to failure.
This agreement has not yet been ratified by the parliament of Kosovo, due to the protests of the oppositions or the hesitation of coalition parties.
Following the opposition's rejections, parties within the governing coalition have also started to demand its revision.
Democratic Party of Kosovo MP, Nait Hasani was one of the first ones from the governing coalition who had demanded the revision of the Demarcation Agreement with Montenegro.
He says that this issue is going back to point zero, as many other MPs are convinced of the irregularities.
According to Hasani, the cadastral model used for the demarcation of the border line is the wrong one and that other models must be used in the revision process. According to him, border line with Montenegro is more than 50 years old and that it has been determined through mountains and rivers.
The head of PDK parliamentary group, Adem Grabovci admits that the agreement for the demarcation between Kosovo and Montenegro does have problems.
He says that the border has been historically situated at the place called "Zhlepi Tower", while with the current version, the border enters five kilometers into the territory of Kosovo.
The current agreement between Kosovo and Montenegro on demarcation has also been rejected by the three opposition parties. According to them, with this agreement, Kosovo loses over 8 thousand hectares of land.
However, besides individual declarations, government of Kosovo has not come out with a clear stance if it will comply with the agreement signed with Podgorica or whether it will review it.
Meanwhile, analysts in Pristina say that the agreement in question must be revised.
Analyst Halil Matoshi thinks that the agreement must be taken to the Court of Arbitrage.
According to him, the entire public opinion has doubts as to irregularities concerning this agreement.
"I don't think that this version of the demarcation will be passed and parties must agree to take it to the Court of International Arbitrage", he said.
The ratification of this agreement has been imposed by Brussels as the last condition for institutions in Pristina, before scrapping the visa regime for the citizens of Kosovo.
What remains to be seen now is whether the governing coalition will further proceed to ratify the agreement in Parliament. /balkaneu.com/