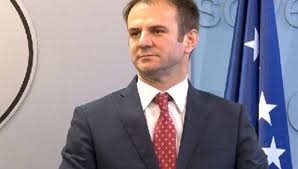 Pristina-The delegation of the Republic of Kosovo is staying in Brussels to discuss the implementation plan of the agreement reached between Kosovo and Serbia.
"The delegation of Kosovo goes in Brussels to reach an agreement for the implementation, including the issues of implementation and deadlines, the actors of the implementation and the concrete issues", states the press release.
This delegation is led by the deputy Prime Minister, Hajredin Kuçi and part of this delegation is the coordinator for talks, Blerim Shala, General Attorney, Ismet Kabashi, the chairman of the Judicial Committee of Kosovo, Enver Peci and the head of Kosovo Police, Shpend Maxhuni.
"We stress the need for the agreement to be implemented as soon as possible, as provided in the agreement, for which the Kosovo side is ready and expects the same thing from the Serb side and international factors such as KFOR and EULEX", said Kuçi.
The implementation plan was due to be drafted until April 26, but such thing failed given that Serbia had demanded more time. /ibna/