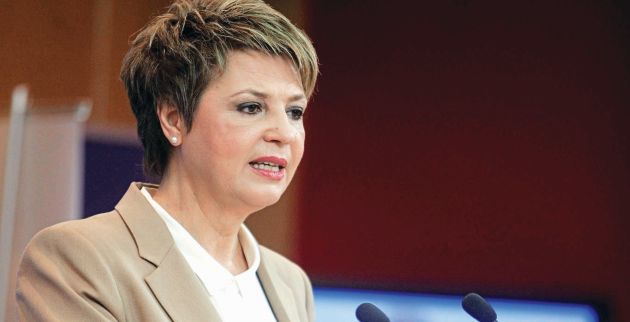 Athens, April 20, 2016/Independent Balkan News Agency
By Spiros Sideris
No precautionary measures are necessary, said government spokeswoman Olga Gerovasili at the press briefing of political reporters, regarding the additional allegedly additional measures required by lenders for possible deviations in the primary surplus in 2018.
The government spokeswoman said yesterday that the European institutions will return to Athens today and negotiations are ongoing with the participation of the IMF.
The government estimates that the discussion at technical cadres level is in its final phase, in view of the eurogroup.
As Gerovasili said, this agreement can form the basis for the completion of the evaluation.
Asked whether any additional precautionary measures are a political problem, she said the problem in such a case would be economical. She stressed that the agreed steps are to complete the evaluation and then to make the debate on the debt. Only then, Gerovasili said, we could examine the possibility of measures in case of deviations. Anything else does not constitute respect attitude towards the agreement, she said.
Those who are eagerly waiting or trying, in order to impose unpleasant measures to weaken the government, would be nice to join the national effort in the interest of the Greek people, she said, and made it clear that there are no thoughts neither for elections, nor for a referendum.
Gerovasili noted that the message from abroad is that the evaluation must close and have stability, to emphasize that the government is not interested at this time for its own political costs, but the cost of the country and the Greek people.
This is the only thing that interests the government walks along this path, she said and added that the government believes that the basis for the completion of the evaluation will be the positive developments in the Greek economy, because the figures surpass the relevant provisions.
"We are in a position to know that this positive picture is reflected in Eurostat's report", said the government spokeswoman and noted that "this report, which is given to the public on Thursday, shows a higher primary surplus in relation to what was originally foreseen".
She concluded saying that the ECB's move to integrate the Greek banks in the QE program should also be taken into account.