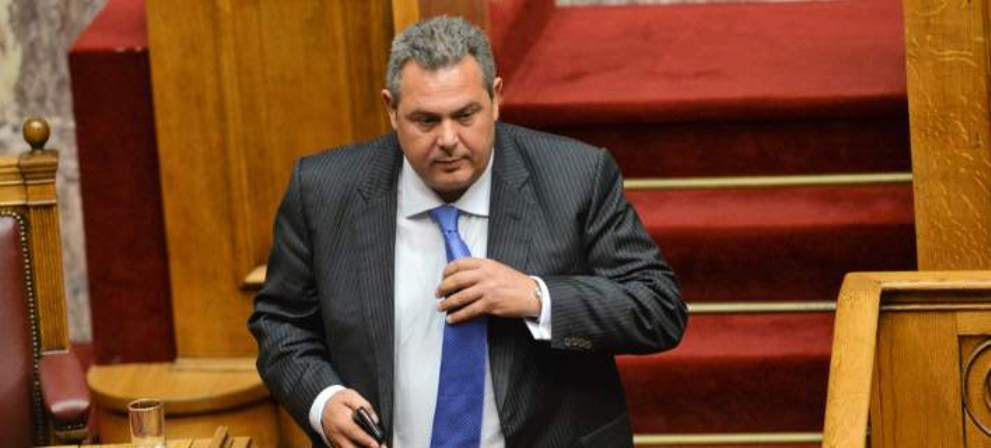 Defense Minister Panos Kammenos responded to questions in Parliament on Monday over the content and nature of a phone conversation he had with a convicted criminal, Makis Yannousakis, who is serving a life sentence for drug smuggling.
Kammenos was being probed over leaked audio suggesting he promised former shipowner Yiannousakis political support if he testified in a trial against a businessman. He has denied the relevant media reports, saying that Yannousakis was the one who approached him, seeking judicial protection.
On Monday Kammenos responded to questions by the major opposition party in parliament.
New Democracy Vice President, Adonis Georgiadis, revealed in parliament that Kammenos has spoken to Yannousakis twelve times and asked the minister to explain why these telephone calls were made and what was discussed.
The Defense Minister attacked Georgiadis, accusing him of defending business interests which are "involved in many cases being probed by Justice". Kammenos noted that the drug smuggling case is of major importance in terms of national security as it is linked to the possible funding of terrorism, therefore it falls under the umbrella of the Defense Ministry's competences. Kammenos added that Yannousakis is concerned about the safety of his family, if he was to reveal everything he knew about the case.
"I called [Yannousakis] from my own phone and did my duty. My duty when an inmate comes and tells me that he is afraid for his life and wants to report so-and-so is not to protect that someone but to protect the witness," he said.
Adonis Georgiadis insisted in his rebuttal that Kammenos must reveal if the Prime Minister knew about the minister's calls with Yannousakis. However, Kammenos did not answer this question. Instead, he went on to accuse New Democracy MPs of also speaking with people who are alleged to be involved in the drugs case.
In addition to Kammenos, Georgiadis extended his criticism to government spokesman Dimitris Tzanakopoulos and Justice Minister Stavros Kontonis for providing cover to Kammenos' handling of the situation.
According to Kontonis, who also replied to questions on the Noor1 case in Parliament, nobody was immune to investigation, no matter how influential, and all reports would be followed up, even the contradictory reports made by the specific inmate.
In an announcement later on Monday evening, New Democracy said the Defense Minister failed to deliver clear answers about the case and demanded that Prime Minister Alexis Tsipras makes clear if he still supports Kammenos./ΙΒΝΑ