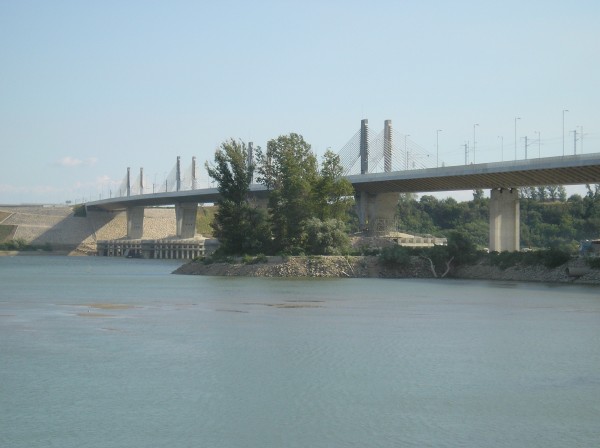 By Clive Leviev – Sawyer of The Sofia Globe
An inspection by Bulgarian officials has found 20 serious defects in Danube Bridge 2, opened in mid-June 2013 and which links the Bulgarian city of Vidin with Romania's Calafat, according to Transport Minister Daniel Papazov.
There is concern that the defects could worsen in winter if water leaking through cracks in the surface ices and expands.
Danube Bridge 2 was hailed as a great step forward when it opened, in part because the new facility relieves the pressure on the ageing Danube Bridge 1 at the Bulgarian city of Rousse. Since its opening, it has drawn huge amounts of road freight traffic.
Recent reports said that there was a pothole in the bridge, but speaking to local media, Papazov was quoted on October 21 as saying, "I do not understand why you talk about a hole in Danube Bridge 2 because there are many holes and a whole series of problems".
A crucial problem was that drainage was poor, meaning that water accumulated under the asphalt, according to Papazov.
"If it is any comfort, the Romanian part is in worse condition," Papazov was quoted as saying. There were problems with lighting and traffic lights not working.
But he doubted whether there could be compensation from the Spanish company that built the bridge, because it had been certified by domestic and international committees. Papazov said that he saw no clause in the contract with the builders that could give the right to request correction of serious defects.
The Danube Bridge 2 project was on the drawing board for many years. Construction officially started in May 2007 in the presence of Bulgaria's then-prime minister, Bulgarian Socialist Party leader Sergei Stanishev. The two halves of the bridge were connected in October 2012, and there was a ceremony celebrating this completion attended by then-prime minister Boiko Borissov. However, the official opening came in June 2013, after months of finishing works on the bridge, now dubbed the New Europe Bridge and said to have cost about 230 million euro.
The issue of infrastructure, including emblematic projects such as Danube Bridge 2, is not without its politics, as the current government of Bulgaria seeks to discredit a predecessor.
Under Borissov, the 2009/13 centre-right GERB government in Bulgaria prided itself on the completion of major infrastructure projects. Now in opposition, GERB has cited incompetence in dealing with infrastructure projects as one of the failings of the current Bulgarian Socialist Party government.
In turn, the current government has sought to portray projects completed with GERB was in office as below-standard, in effect rush jobs.
On October 19, Bulgarian Socialist Party Regional Development Minister Desislava Terzieva, whose performance had come under attack by GERB in a failed motion of no confidence in the government, told local media that more than 80 per cent of the roads in Bulgaria still under warranty had defects.
(Photo of Danube Bridge 2: Clive Leviev-Sawyer)