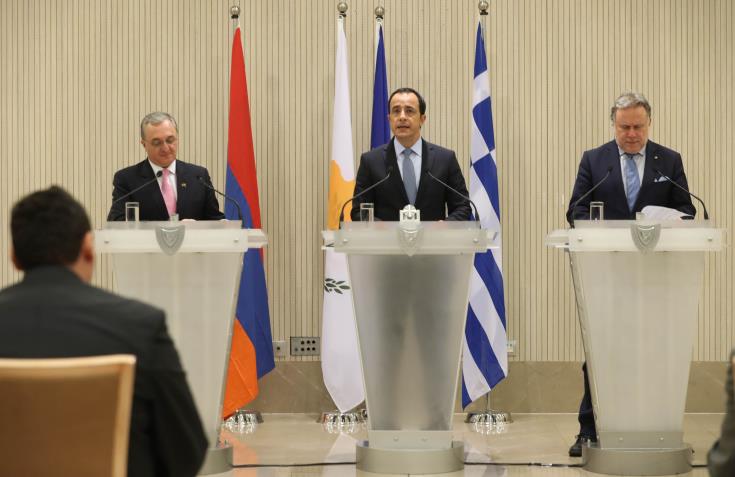 Economy, trade, culture, tourism at the forefront
By Michalis Michael
Cyprus, Greece and Armenia have agreed to extend and deepen their co-operation during the 1st tripartite Foreign Minister-level meeting on Tuesday in Nicosia. They also agreed for a summit of the heads of the three states to take place in the following period in Armenia.
At a joint press conference, Cypriot Foreign Minister Nikos Christodoulides said that the aim of trilateral cooperation between countries is to promote peace, stability and prosperity through enhanced political dialogue and co-operation between the three countries. "Today's meeting clearly reflects the common determination to expand and deepen our cooperation and develop synergies that will benefit our countries and peoples," he said.
He added that in this direction, he agreed to explore opportunities for cooperation in a number of areas of mutual interest, such as economy, trade, investment, agriculture, education, science, information technology, health, crisis management, civilization and tourism.
"At the same time, we have agreed to strengthen our cooperation within international organizations and various multilateral fora, underlining the importance we attach to coordinating the action of our diaspora in key decision-making world-wide," he said.
He also said that he briefed his counterparts on the latest developments on the Cyprus issue, as well as on the escalating illegal activities of Turkey in the Exclusive Economic Zone of the Republic of Cyprus in violation of the sovereign rights of the Republic and of International Law. He also noted that they exchanged views on the Nagorno-Karabakh conflict, as well as on the implementation of the Prespa Agreement and reviewed the European Union and Armenia relations.
With regard to EU-Armenia relations, they assured the Armenian Foreign Minister of their full support for the strengthening of EU-Armenia relations, both within the framework of the Eastern Partnership and the EU-Armenia Comprehensive and Enhanced Partnership Agreement in November 2017, and beyond.
The Greek Foreign Minister, Giorgos Katrougalos, said on his part that the three countries share the same ideas, they are peaceful countries, who believe that international law and respect for multilateralism is the basis of international relations. He also said that the three countries also share a long history.
"We have designed the improvement of both our economic and political relations and the next step will be the tripartite summit of the leaders of our countries," he said, adding that Greece intends to help Armenia in its European perspective./ibna