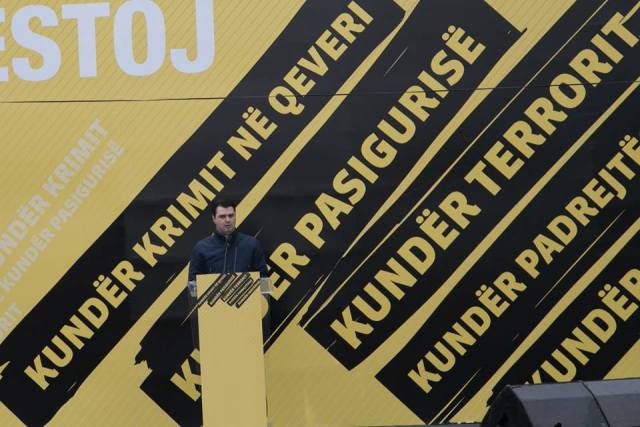 Tirana, March 30, 2015/Independent Balkan News Agency
Albanian opposition is intensifying its tones against the left wing majority, suggesting that it has been filled with criminal elements who are in Parliament and other central and local institutions.
Democrat leader, Lulzim Basha said yesterday (photo) that decriminalization is a national emergency.
Basha also commented the request of the Belgian justice system for the extradition of the left wing MP, Mark Frroku, sentenced with 10 years in prison in absentia for a murder taken place in Belgium.
He also mentioned the fact that two years ago, the opposition denounced for the head of the government the crime that the MP had been sentenced for. "When we denounced his alliance with crime, when we told him that the MP selected by him had serious problems with the Belgian justice, Edi Rama was accompanied by him in Shkoder and the North. When we told him that his incriminated people are defending drug lords by hiding them in their cars, Edi Rama appeared with Mark Frroku on his right side even in meetings with the citizens. But now that the Interpol request from Brussels arrived demanding the arrest of his MP for murder, what will Edi Rama say? What will he tell to the people who have pointed the finger toward him?", says Basha.
"Will he assume responsibility for bringing him to parliament, for making him part of decision making and voted laws with him?", continued the democrat leader.
For the opposition leader, "the government today is nothing else but a group of people that become richer and make the life of the citizens harder".
But, for the opposition, "Frroku" is not the only case. "Edi Rama has filled his parliamentary group with incriminated people. He has turned this into a norm and it's been two years that he's serving to the citizens drug lords, pimps, murderers and robbers, as if they had most of the virtues among us".
Basha said that "Europe is shocked by this unimaginable incrimination rate".
The leader of opposition said that it will mark the final division of the government with crime. "Democrats will give Albanians a new offer that solves and doesn't cause more problems for Albanians", declared the democrat leader. /ibna/