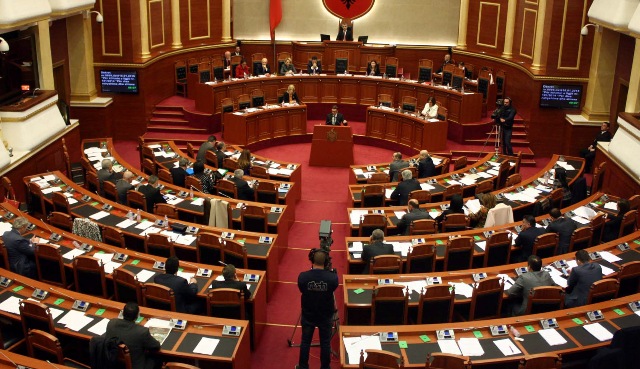 IBNA Special Report
Tirana, February 25, 2015/ Independent Balkan News Agency
By Edison Kurani
In Albania, MPs have voted for the appointment of a committee for the decriminalization of the Parliament that they're part of. The start of the process of decriminalization of parliament follows a resolution ratified in parliament in December upon the request of the opposition. This resolution suggested the cleansing of the legislative institution from persons who have a criminal past in Albania or abroad. The appointment of the committee was voted by 102 MPs in the 140 seat parliament. The majority members in the committee are Spartak Braho, Armando Subashi, Pirro Lutaj and Ulsi Manja. The members of the opposition in the committee are Oerd Bylykbashi, Eduard Halimi and Gent Strzimiri. Now, the opposition and majority are forced to work together with the assistance of the European Union, on the issue of individuals with criminal convictions, who hold a public office or who want to be elected or nominated in such office.
The committee will proceed based on European standards and assistance of the Venice Commission.
The process of legislative amendments which will be conducted by the committee will start in the next parliamentary session and will be finalized until 30 June 2015.
Decriminalization was the main request of the opposition led by the Democratic Party, which was in power for 8 years (2005-2013). The opposition had accused the majority that some of its MPs had a criminal past. DP said that the left wing had inside of it people who had been convicted of crimes and even murder, in Albania and abroad. The opposition never published any concrete names. However, the press published names of MPs convicted of murder abroad and who had been declared internationally wanted.
But will MPs be able to committee "suicide"? What was noticed in December and the last session was the fact the process of decriminalization was also voted by MPs who have allegedly been involved in criminal affairs. This process was also voted by MPs who have faced political accusations for corruption affairs.
Process of decriminalization is unprecedented in Albania, as it is unacceptable that according to politicians, parliament has inside of it people with a criminal past.
IBNA's poll with citizens of Tirana shows that they are skeptic that MPs will punish themselves, although a very small part of them have been alleged for involvement in criminal affairs.
Almost none of the citizens asked by IBNA doesn't believe that MPs will conduct a full process of decriminalization, which must be finalized until 21 June 2015. They believe MPs are inclined to preserve the privileges that they enjoy with their mandate and that they fight to increase the number of years in this "profession" and not reduce them.
In fact, the majority of Albanian MPs have been elected for several terms, since the '90s. It remains to be seen if in the next legislature, parliament will be entirely clean. It also remains to be seen if officials holding senior public posts will also be involved in the process of decriminalization that parliament announced. /ibna/