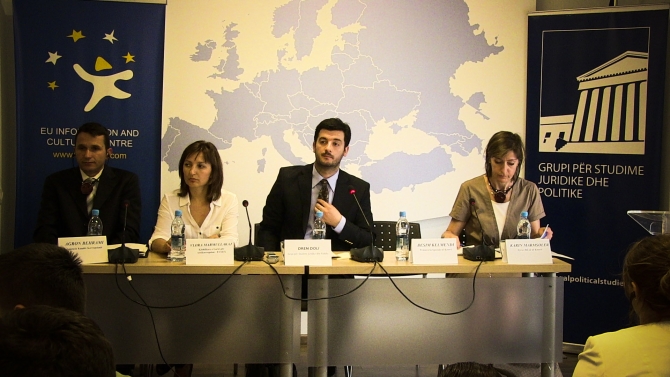 Pristina, June 25, 2013/Independent Balkan News Agency
By Elton Tota
A round table was held today in Pristina by the Group for Legal and Political Studies (GSJP) and the topic of discussions was "Is the system of the declaration of assets helping in fighting corruption".
In this meeting, the members of the panel said that the application of anti corruption laws is a condition for the EU integration.
Senior adviser for anti-corruption at EULEX, Vlora Marmullakaj said that the declaration of assets is one of the main pillars in the fight against corruption.
"Declaration of assets is one of the main pillars for the prevention of corruption. The declaration of assets helps in discovering cases of conflicts of interests, but it can also offer key information for the investigation of criminal offenses relating to them", said Mamurllakaj.
"EULEX has been engaged last year in the amendment of the law, based on the recommendations issued in the guideline for the liberalization of visas and other EU documents. Given that Kosovo still has a high level of corruption according to international reports, makes us wonder if this has helped in preventing or reducing corruption cases", said Marmullakaj.
Meanwhile, Karin Marmsoler from the European Union office in Kosovo, said that the rule of law and corruption are a requirement for integration in the EU. She said that the approval of laws is not enough, they must also be applied.
"Rule of law and fight against corruption are crucial for the integration of Kosovo in the EU. Kosovo has managed to approve the laws, but this is not enough. Their application is also needed. The Agency against Corruption and State Prosecution must collaborate as much as possible", says Marmsoler.
Meanwhile, Agron Behrami from the Agency against Corruption, said that the declaration of assets by senior officials has seen an increase from one year to another. He said that this agency will continue to investigate all those officials who do not declare their assets and demanded more collaboration with the citizens.
Group for Legal and Political Studies has also published several findings from the declaration of assets. Based on these findings, there are technical errors that present a non standardized form of the declaration of assets. /ibna/