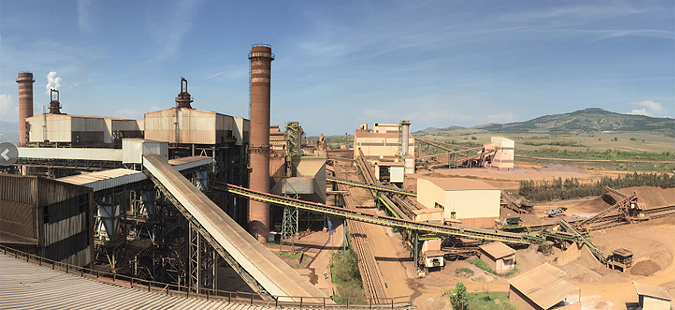 Vele's first instance court postponed the decision to include the FENI ferro-nickel plant under a special liquidation status at the request of the alleged new owner of the company, Enekod.
Enekod has requested that the case be examined by the Skopje Court of First Instance and not by the Véles City Court (the place of the principal interest of the debtor-FENI), invoking "economic reasons" (smaller distances).
Now the FYROM Supreme Court will decide which city court will consider the request for FENI to be subject to special clearance status.
FENI's placement under a liquidation status has been requested by three creditors of the company, Komercijalna Banka, Silk Road (formerly Alpha Bank) and Stopanska Banka.
These three banks are requesting that FENI be placed under a special liquidation procedure as soon as possible in order for it to continue its operation and reorganize itself with the ultimate aim of finding a reputable investor who will take over the debts and obligations of the company towards the employees banks, and other creditors.
FENI's debts amount to EUR 60 million, of which EUR 40 million is to the banks.
Representatives of creditor banks have voiced doubts about Enekod's ability to take over and serve FENI's debts, and according to information, a large French company has shown interest in taking over FENI.
Enekod was to submit a new proposal to creditor banks yesterday to serve FENI loans, but this did not happen because, as a spokesman said, FENI yesterday found out that it owes EUR 5 million to FYROM's Revenue Authority (UJP), for which Enekod had no knowledge and asked for more time to consider what kind of proposal it would submit to the creditor banks.
Bulgarian Enekod is active in the power generation and supply industry, and supplies FENI with power.
About a month ago, Cunico (formerly the FENI owner) and Enekod had announced that they had reached an agreement on FENI's purchase and sale, but a problem with creditor banks came up. However, at the central commercial register of FYROM, as new FENI CEO was registered one of the owners of Enekod, although the creditor banks reported that such a move requires their consent as well, which was not requested.
FENI, based in Kavadarci, employs 850 workers and is one of the largest FYROM export units. However, for about two months now the plant has discontinued its production./IBNA