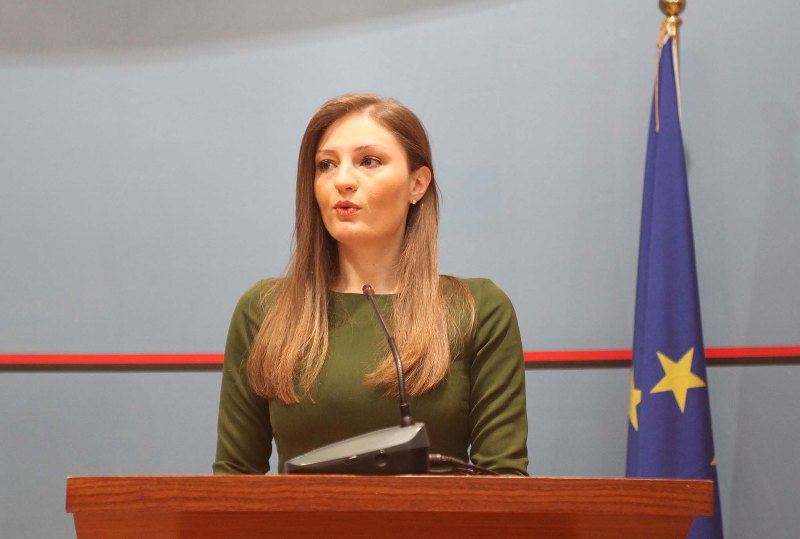 IBNA Op-Ed/ "Currently, there's a difference between Albanians and EU countries; while some of them are becoming increasingly skeptic on enlargement and EU in general, Albanians strongly believe on the EU. We continue to share the same enthusiasm and consider EU as an encouragement and motivation to transform our society through reforms and to improve the quality of our life"
By Klajda Gjosha
Minister of European Integration of Albania
Albania and Eastern European countries have several things in common. We have come out of communist and totalitarian regimes, where the people didn't have the right of speech and movement, where borders between Eastern and Western Europe were impenetrable.
People of Eastern Europe countries have faced tough times for very long periods, living in systems where human rights were limited, where democracy was an unknown concept and where neighborhood countries felt so far away even though being so close. When the communist regime collapsed, the enthusiasm of Albanian people was immense. It was a moment that Albanians had waited for so long, they had sacrificed themselves and their families for so long, under the claws of oppression. And so, from that time on, my country continued to go through a transition phase for years, and at the time when the largest EU enlargement moment of all times happened, we were still struggling to understand what democracy was. European Union looked so both far away and near. However, each one of us, has always felt the sense of belonging to Europe and by natural means, felt a citizen of Europe.
Today, we feel European citizens more than ever before. Today, Albanian people are able to enjoy the fundamental rights in respect to human dignity, they enjoy the freedom of movement in EU countries. We have  a free market economy where we can take advantage from the lifting of barriers in commercial exchanges with EU countries. Today, Albanians are free to learn any language they want to and listen to any music they like to. Today, boundaries between Albania and countries of Europe are becoming more and more unnoticeable.
Currently, there's a difference between Albanians and EU countries; while some of them are becoming increasingly skeptic on enlargement and EU in general, Albanians strongly believe on the EU. We continue to share the same enthusiasm and consider EU as an encouragement and motivation to transform our society through reforms and to improve the quality of our life.
The 2004 enlargement story is such an inspiration to us, because while many EU members believed that they could not digest this huge group of Eastern countries. They thought that this could make things worse, but it resulted to be a great success. Two years after the enlargement occurred, study reports from EU, came with the conclusion that integration had produced stronger economic growth in the new member states without harming the economy of the older member states. The reforms adopted by EU during the accession process, had helped them to modernize their societies and economies, bringing  greater economic stability and opening up new opportunities for development. Even human migration toward the existing EU countries had been relatively modest, being such an ironic fact, given that this was the greatest fear of the existing EU countries.
History of the EU is so essential for Albania to understand that the integration process itself is as much important as is the post accession process. That's why the Albanian government does firmly stand for the proper development and delivery of reforms. The Albanian government is very committed to continue its work in the integration process in collaboration with the Commission and Member States.
Five key priorities
Our focus remains on the 5 key priorities that were given by the Commission as a prerequisite to open the accession talks. We are fully engaged in the reform of the Judiciary system, because it is the root cause of many other problems that have brought failures in the fight against organized crime and corruption. We are fully engaged to fight the organized crime and corruption with any tool available. And in fact, anti-corruption track record improved by 41% compared to the same period last year, with 55% more suspects prosecuted. Anti-corruption coordinators and focal points are assigned and functional in each Ministry. The cross-cutting Integrated Border Management Strategy and its Action Plan for 2014-2020, was approved this March.
We are fully engaged to create a stable and modern public administration, by adding amendments to the civil servant law that protect the civil servant no matter what governments come into power. Important initiatives have been taken to train the civil servants in areas of actual interest, like the EU Integration or Ethics in Public Administration and Civil Servant Law structure.
We are fully engaged in the protection of human rights. The Roma community, whose protection has been an all times a shortfall of previous governments, is now getting more attention. They receive an equal treatment of health services and efforts are being made to increase their employment in public institutions.
The Albanian government is trying to keep high on its performance in those key areas and will do so, no matter what the June decision will be. However, we are all hoping to step into another level of the integration process this coming June.
Here, I would like to quote one of the founding fathers of the EU, Jean Monnet, who says: "There is no future for the people of Europe other than in Union".