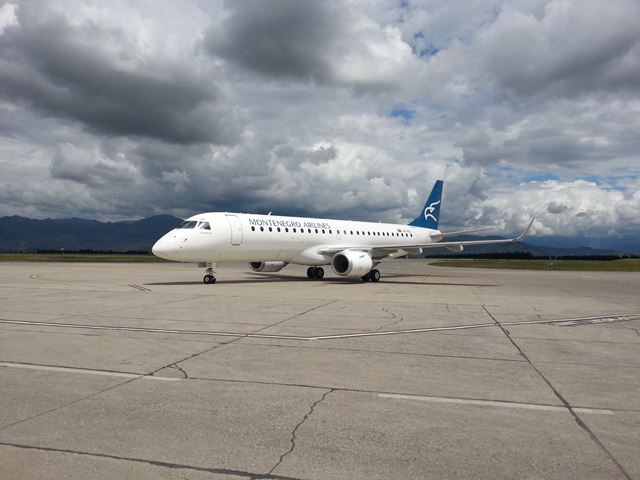 By Adnan Prekic – Podgorica
The national airline company Montenegro-airlines last year ended up with a total of minus 68 million euros. Report of the audit firm showed that the debts of the national air carrier are several times larger than previously portrayed leadership. Montenegro Airlines debts are greater than the value of the company. The results of the audit report the board of directors gave the prosecution of Montenegro.
In a year when the management of the Montenegrin national airline announced that they achieved excellent results in business, came news of the huge debts of the company. Report of the audit firm MV CONSULT Ltd. showed that the minus of Montenegro Airlines is several times higher than the previous administration showed. At the end of 2013. debts of national airlines amounted to 41.8 million euros. If we add long-term liabilities – loans for the purchase of aircraft and other, this joint-stock company has a debt of over 68 million euro.
Middle of last year, when after 19 years replaced from position of president of the company, Zoran Djurisic claimed that company owed ​​about 20 million euro. In the auditor's report states that Montenegro Airlines owes more than it's worth and that it has virtually no salvation without the help of the government. The company's ability to continue its operations primarily depends on the possibility of restructuring its liabilities and the establishment of a satisfactory level of liquidity. Opportunities to improve the financial position are limited and almost entirely dependent on the support of the Government and its restructuring plans, states in the auditor's report.
Following the report of auditors from the Montenegro Airlines was announced that they submitted to Public Prosecutor complete documentation about the business. Assembly of the shareholders of the company on the report of an independent audit firm, that indicates the irregularities in business and inaccuracy in expressing losses, informed the government as well as the owner of the company.
Montenegro Airlines is majority state-owned company and for years company has been operating with losses in the business. Although with a fleet of six aircraft national carrier in 2013. recorded a better result for 12.74 percent in 2013 they realized a loss in business of over 3.8 million euros. Montenegro Airlines has a fleet of three Embraer 195 aircraft with a capacity of 116 seats and three Fokker 100 aircraft with a capacity of 108 seats. The Government of Montenegro is planning to find a strategic partner for the national airline, but several negotiations with major world airlines fell through.